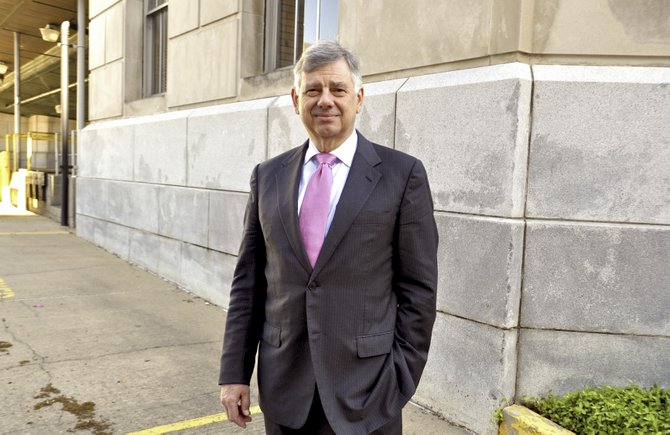 Document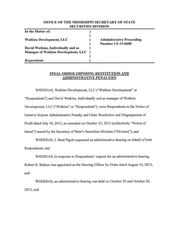 JACKSON — Beleaguered developer David Watkins is claiming that Mississippi Secretary of State Delbert Hosemann charged him with violations that he never had a change to defend and for not disclosing actions that had not happened yet.
Attorney Brad Pigott today filed an appeal of the secretary of state's March 24 decision today in Hinds County Chancery Court calling Hosemann's order "legally defective."
After a two-day hearing, Hosemann concluded that Watkins "operated in a manner to 'mislead or deceive'" in the transfer of bond money from a Metrocenter project to an unrelated one in Meridian.
"Those actions included untrue statements in the bond offering, misleading and deceptive actions in the use of bond proceeds, and substantial omissions in payment requisitions, all in violation of Miss Code Section 75-71-501, Article 5 Fraud and Liabilities, of the Mississippi Securities Act of 2009," Hosemann said in a statement posted online
The secretary of state's office held two days of hearings last October to determine whether Watkins had committed securities fraud when he transferred bond money allocated to re-do the old Belk Department Store in Metrocenter to help purchase and renovate a different property in Meridian. "The failure to disclose their intentions to use the bond proceeds for any other purpose other than renovating the space at the Metrocenter violates the general fraud statutes of the Mississippi Securities Act," Hosemann said in the statement.
Hosemann affirmed that Watkins and his company, Watkins Development LLC, the "respondents," misused bond money allocated to Retro Metro LLC, which Watkins helped start and then managed until July 2012. The money was awarded for the redevelopment of Metrocenter but transferred to a separate Watkins project in Meridian. In his recommendations to Hosemann, Hearing Officer Robert R. Bailess called that transfer of funds "an act and course of business that operated to mislead or deceive."
Today, Pigott responded with several points: that the state charged Watkins with violations that weren't alleged until after the hearings, thus not allowing him a chance to defend himself. The order stated that whether or not Watkins used money that was at least indirectly owed to him by Retro Metro was "irrelevant." In addition, Pigott wrote, the decision is based on an assumption that the state did not have to prove fraud in order to charge Watkins with violating a statute "that is designed to prevent fraud."
Finally, Pigott stated that "one of the most egregious errors in the decision was that Hosemann accused Watkins of not disclosing a bond sale in April 2011 that, he said, did not occur until June 2011.
After the order came down in March, Watkins accused the Republican secretary of state of picking on him because he's a Democrat. The conclusion "smacks of political abuse," Watkins attorney Lance Stevens wrote in a statement then.
In March, Hosemann ordered Watkins to "immediately make restitution of $587,084.34 plus legal interest" to Retro Metro LLC for using bond money allocated for the Metrocenter project to pay for work in Meridian. Watkins was also ordered to pay a civil administrative penalty of $75,000 for omissions and untrue statements during the bond offering and sale; for violating Mississippi Code with employing and deceptive actions connected to bond proceeds; and for manipulating and omitting information from requisition forms. In addition to those fees, Hosemann ordered Watkins to pay administrative and investigative costs in the amount of $18,047.39.
See the JFP's archive of stories on Watkins' legal battles.