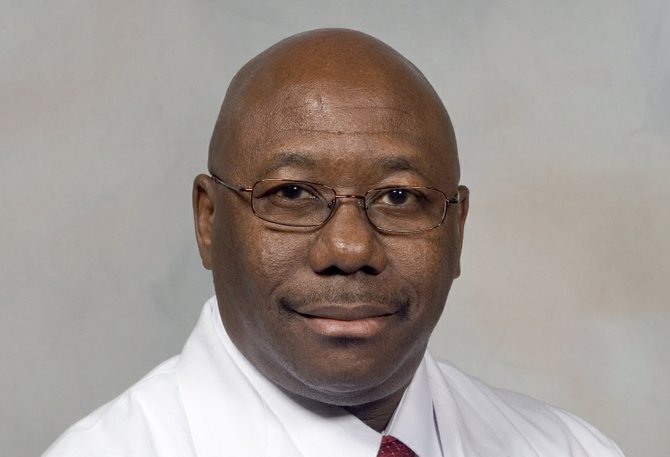 Dr. Claude Brunson, senior adviser to the vice chancellor for external affairs at University of Mississippi Medical Center, is slated to become president-elect of the Mississippi State Medical Association. Brunson is the first African American to fill the position. He spoke about his new role as well as assorted medical issues at Koinonia Coffee House's Friday Forum last week.
Originally from Auburn, Ala., Brunson, 55, became inspired to study medicine at a young age thanks to his grandmother.
"My grandmother was the person in the neighborhood who took care of people who got sick," Brunson said. "African Americans couldn't go to medical school in her time, but I know she could have done it if she'd been allowed to."
Brunson graduated from Auburn High School and went on to Auburn University, but only stayed for a year before dropping out and joining the Navy. He became a hospital corpsman in the Fleet Marine Force, where he spent four years doing health-care work and performing field medical inspections.
"Before I joined the Navy, I never saw African American doctors," Brunson said. "I started seeing them emerge in my time with the military. My time there gave me an idea of what it was like to work in the medical field, and I saw that it was I wanted to do."
When Brunson left the service, he returned to Alabama and completed a master's degree in psychology and pre-medicine at the University of Alabama at Tuscaloosa. He then went to the University of Alabama at Birmingham for medical school. He completed an internship in internal medicine at Baptist Medical Center in Birmingham, after which he started his residency at UMMC in 1988. He joined the UMMC faculty in 1991.
Brunson took on a number of management roles at UMMC, including chief of staff and interim chairman, a position he held for more than seven years. An African American had never held either position before Brunson.
"Early on, there are a lot of eyes on you when you're the first to be doing a certain job," Brunson said. "There's anxiety to do well when people are watching and hoping you will."
Brunson spoke about some of the challenges facing the medical association today.
"The buzz in medicine these days is about the change in the health-care delivery system with the ACA, exchanges, Medicaid and how we can get people more access to health care," Brunson said. "The easiest way for Mississippians to get health care is for them to get more health insurance. Mississippians should have access to health insurance, and the expansion would help with that. We at UMMC promote making sure people get that access and that our policy makers do the right thing to make Mississippi a better place.
"There's a lot of anxiety about the health-care system. People are looking at it negatively, but I think it's a great opportunity to make medical care better and design a better system. It's up to us who are part of the system to participate and make our voices heard. We can make a difference for Americans across the country in how they receive care. I am looking forward to my role with the state medical association because I'll be better able to do whatever I can to improve health care in the state. I think it's going to take a while to get the new health-care system right, which is why I want to be part of making it go right."
More like this story
More stories by this author