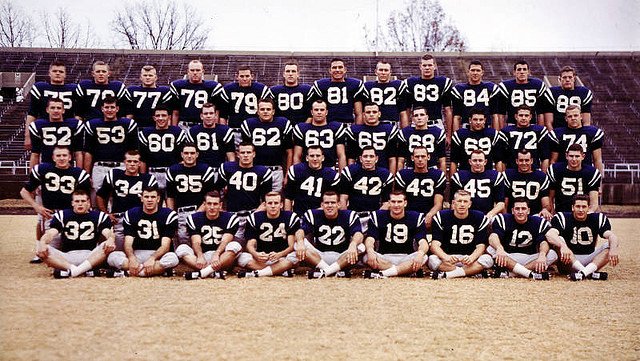 Tonight, the Mississippi Sports Hall of Fame toasts the 1959 Ole Miss Rebels, a team that just might be the best college football team in the history of our state—and maybe even the best college football team in history.
The 1959 Rebels produced a dozen Mississippi Sports Hall of Famers, not including the coaching staff, which Hall of Famer John Vaught led.
Ole Miss went 10-1 on the 1959 season with the lone loss coming from Louisiana State University on a foggy Halloween night. That year's Heisman Trophy winner, Billy Cannon, broke loose on an 89-yard punt return for a touchdown when the Rebels were leading 3-0. LSU won 7-3.
Ole Miss faced LSU again in the Sugar Bowl with the Rebels gaining some revenge in a 21-0 victory in which Cannon was lucky to break the line of scrimmage.
The longest touchdown the 1959 Rebels' defense allowed was just eight yards. The team outscored opponents 350-21. That Ole Miss team averaged 33 points per game in a time before rule changes made it easy to light up the scoreboard like in the games we see today.
The Oct. 17 Renasant Bank Toast to the 1959 Ole Miss Rebels begins with a reception with heavy hors d'oeuvres at 6 p.m., followed by a program at 7 p.m. It will include a screening of a documentary about the 1959 season, remarks from Charlie Flowers and other players and an opportunity for the audience to ask questions of the team members present.
Tickets, which cost $100, are available by calling the Mississippi Sports Hall of Fame and Museum (1152 Lakeland Drive) at 601-982-8264.
More like this story
More stories by this author