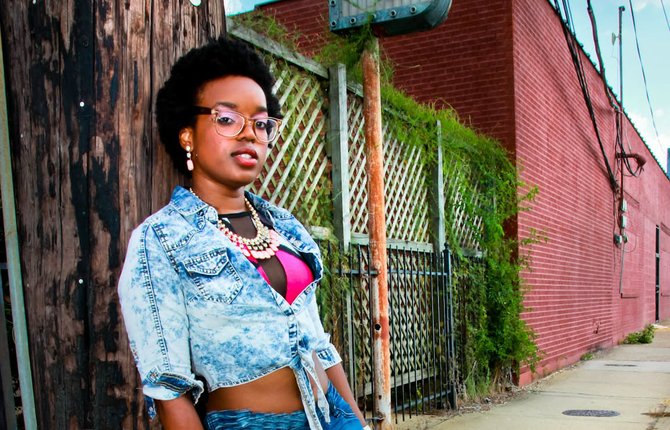 Jackson-based singer and rapper Noelle "Gahdis" Gee, 22, stays current with her sound while addressing social issues in her music. "Mi Girlz," for example, is a shout-out to all women—from CEOs to stay-at-home moms.
When she's not repping females, Gee is looking out for No. 1 with boasts like "go against the goddess, make you an example," and "flow coleslaw and my swagga BBQ, I'm getting that bread so they want the beef stew."
Gee remembers the group Destiny's Child stirring her passion for music.
"(I was in) sixth grade (when) Destiny's Child came out," she says. "Me and my cousin recorded their video and performed it at family events." Gee also credits TLC and Aaliyah for inspiring her to sing, although at first it was just in youth-choir programs.
She began writing poetry in third grade and eventually started rapping her poems to get exposure.  Her singing heroes such as Lauren Hill also became her rapping idols, and Hill's I'll-rap-like-the-boys-rap attitude is audible in Gee's music. Gee's flow also contains echoes of the hard-edged delivery heard now in Three 6 Mafia's Gangsta Boo.
B. Juize, Jackson-based beat-maker and one of Gee's long-time collaborators, helps her with production. While Gee's music finds its foothold firmly in southern rap, the beats eschew the minimal snap style for a busier side of the dirty south. B. Juize keeps her R&B and rap tracks sounding sonically unified by adding these re-occurring elements. They have been working together on Gee's debut EP, "Head Above the Clouds," which is set for release this winter.
"We got pop ... that street anthem ... something for the girls ... (and) motivational music on there," Gee says about the upcoming release. She also says that Mr. Franklin, aka Kamikaze, will make an appearance on the album.
Download Noelle Gee's songs, "Mi Girlz," "Salute Me" and "Hurt Me," at audiomack.com/artist/gahdis-noelle. Follow her on Instagram and Twitter @GahdisNoelle.
Check out all of JFP's 2013 Artists to Watch here.