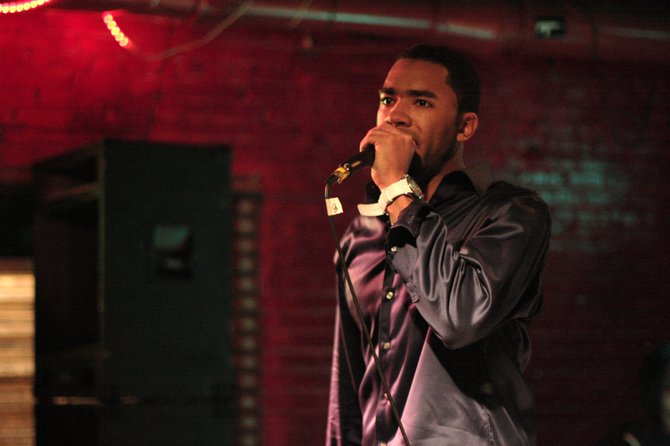 Adam Jerrell Collier, 28, aka AJC, is fully aware of Mississippi's reputation, good and bad. He loves living in Jackson, but at one point in his life he was embarrassed to admit that his home state is Mississippi to others.
"I feel like American music kind of started here, and it's the perfect place," he says. "It's funny that people look down on Mississippi. People would look at you crazy, or they form this opinion in their mind about your music before you tell them."
Now that he is older and has molded his musical career in Jackson, Collier doesn't want to be anywhere else. "I think this the best place for me as far as music and everything," he says. "I don't think I'd be doing music the way I do it if I wasn't in Jackson."
As a multi-genre musical artist, Collier recognizes that the state is the birthplace of American music. "Anybody who has done anything great in music ... they're all from here," he says. Many of these greats are unknown, such as Benjamin Wright of Greenville who played horns and strings on both of Justin Timberlake's 20/20 Experience albums.
Collier, a Brandon native, studied accounting at Jackson State University, but he started singing at age 5 and rapping at age 13. He grew up listening to oldies such as Luther Vandross and Barry White with his dad. His taste went from Nas and Jay-Z as he was entering college to Maroon 5 and Erykah Badu as he matured. Now, Collier says, it is becoming easier to channel the music his father had him listening to when he creates original material.
Collier has trouble defining his music and calls himself a genre jumper. His upcoming album, "Fallen Star," will feature reggae, rock, hip-hop, and Latin-styled music with splashes of classical, gospel, and acoustic. While he hates the term fusion, Collier admits that it accurately describes what he is doing. The closest description Collier can gibe for the music he currently makes is "poetry meets jazz pop."
"I like to fuse genres and break them apart at the same time. When we break down into a jazz piece on the album, you know it's jazz," he says. "Then we go back to a regular hip-hop type of thing."
AJC and the Envelope Pushers, Collier's band, is working on its debut album, "Fallen Star," to come out in the spring. Along with Collier as the vocalist, the band includes hand percussionist Wilton Knott, lead keyboardist Terrence Evans, drummer Frank White and keyboardist Chris Johnson.
The group plans to have three songs for "Fallen Star" recorded by the end of this month and the rest of the 14 tracks before January 2014. In September, Collier set up a Kickstarter campaign to fund the project with a goal of raising $2,000 by Oct. 22. Within the week, the project raised $900. After he receives the money from Kickstarter, Collier plans to pull several all-night sessions to crank out material. Collier anticipates releasing the "Fallen Star" in April.
The album will combine serious and positive messages with dance-worthy music influenced heavily by reggae.
"I had to find something that would make people move, but it couldn't be booty-shaking music," Collier says about reggae's appeal. "I'm a lyricist, so I wanted to find a tone that could make people want to dance, and they could still get the message."
While people aren't usually inclined to dance when listening to music with serious messages, Collier thinks dancing can be important.
"The body is made to move, so why not make it move?" he asked. "And the brain and the cognitive senses are made to process different things and think. ... Why not enjoy the fact that this is a really good message—whether it's about depression, AIDS, sex, religion or somebody who's going through a hard time—and dance to it. I think when you have fun with anything, (even when) it's something very sincere, it kind of gets in your spirit a little bit easier."
AJC and the Envelope Pushers perform at 9 p.m. Oct. 19 and 8 p.m. Nov. 7 at Underground 119 (119 S. President St., 601-352-2322). Visit tinyurl.com/ajcbelief by Oct. 22 to contribute to the "Fallen Star" Kickstarter campaign. Listen to AJC's single, "Special Passenger," on YouTube.
Check out all of JFP's 2013 Artists to Watch here.
More like this story