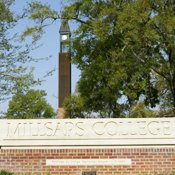 Today, the Elvis Tribute Concert is from 7-11 p.m. at Candlelight Inn & Suites (1525 Ellis Ave.). Performers include David Lee, Jason Baglio and Jamie Isonhood. $12, $20 VIP; call 985-474-1161 for tickets; davidleerocks.com. "The Pillowman" is at 7:30 p.m. at Warehouse Theatre (1000 Monroe St.). $7 at the door; call 601-948-3533, ext. 224. NEWJACKMEMPHIS: New Orleans x Memphis x Jackson featuring The Jackson Jackals is at 8 p.m. at Soul Wired Cafe (111 Millsaps Ave.).$10; call 863-6378. Kenny G performs at 8 p.m. at Beau Rivage Resort and Casino (875 Beach Blvd., Biloxi). $40.0-$60; call 888-566-7469; beaurivage.com. AJC & the E-Pushers perform at 8 p.m. at Underground 119 (119 S. President St.). Free; call 601-352-2322; underground119.com. Need more options? See our Best Bets.
On Saturday, the Fall Dance Concert is at 2 p.m. and 7:30 p.m. at Belhaven University, Bitsy Irby Visual Arts and Dance Center (1500 Peachtree St.) in the Studio Theatre. $10, $5 seniors and students, free for Belhaven students and employees; call 601-974-6494; belhaven.edu. "My Natural Hair Rocks" Natural Hair Meet-Up is from 5-8 p.m. at Wasabi Sushi & Bar (100 E. Capitol St., Suite 105). Includes hair models from Natural U Hair Salon, a kids' fashion show and a special appearance from YouTube vlogger Hair Crush. $10 in advance, $15 at the door; call 948-8808; naturalusalon.com. Myla Smith: Hiding Places Tour is from 7-9 p.m. at Cups: An Espresso Café (2757 Old Canton Road). All-ages show. Free; call 601-362-7422; mylasmith.com. Synergy Night is at 9 p.m. at Mediterranean Fish and Grill (6550 Old Canton Road, Ridgeland). 99.7 FM WJMI DJ Maranda J hosts the open-mic and jazz event featuring live music. $10, $5 open-mic participants; follow @synergynights on Instagram. For more events, check out the JFP Events Calendar.
On Sunday, the Stop Hunger Now Pack-A-Thon is from 1:30 p.m.-6:30 p.m. at Millsaps College (1701 N. State St.) in the Hall Activities Center. Free; call 974-1000; email mcasteel@stophungernow.org; tinuyurl.com/SHNjackson. Metropolitan Chamber Orchestra performs Suppe's Light Cavalry Overture, Satie's Gymnopedes and Beethoven's Symphony No. 1 at 3 p.m. at St. Andrew's Episcopal Cathedral (305 E. Capitol St.). Free; call 601-622-7978; freewebs.com/metropolitanchamberorchestra. "The Pillowman" is at 7:30 p.m. at Warehouse Theatre (1000 Monroe St.). The play is part of New Stage Theatre's Unframed Series. $7 at the door; call 601-948-3533, ext. 224; newstagetheatre.com. Also, be sure to take some time to support a local restaurant such as Bon Ami, Two Sisters Kitchen, Julep, Cool Al's, or Cerami's. If you want more dining options, see JFP Restaurant Listings and the Menu Guide.
Is something missing? To make sure your event is listed on the JFP calendars, send the information to events@jacksonfreepress.com or music@jacksonfreepress.com, or add your event yourself. It's easy!
More like this story
More stories by this author