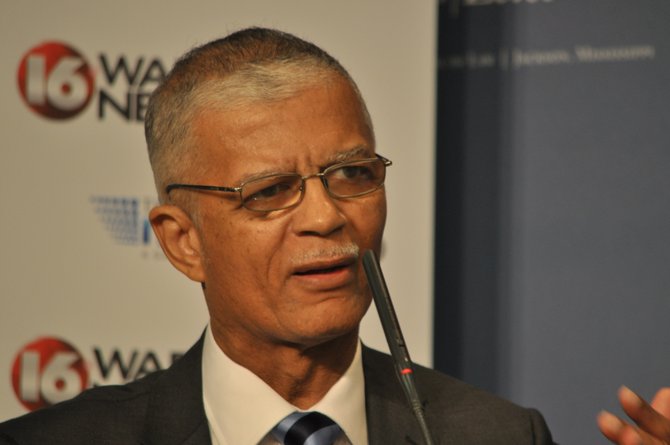 With a strong lead headed into the final weekend of the 2013 Democratic race to be Jackson's next mayor, Jonathan Lee had a lot to lose and not much to gain Friday night at The Clarion-Ledger/WAPT debate at the Mississippi College School of Law's auditorium.
But what he did have to lose, he lost.
Lumumba started early and often, raising questions about Lee's business acumen, his financial and voting base, and his Rankin County roots. Lee took the walloping for about 45 minutes before trying to steer the subject matter back to the issues.
The crowd at the debate, which was not as large as the first debate that also featured incumbent Harvey Johnson Jr., Regina Quinn and Frank Bluntson, was mostly pro-Lumumba.
The back-and-forth was juicy and sometimes childish in nature, and the crowd reacted noticeably as Lumumba landed one-liner after one-liner against Lee. It got so bad that moderators had to ask the crowd to please contain themselves six times.
A few key exchanges:
• Lumumba pointed out that in 11 years of Lee running Mississippi Products, the company had suffered four default judgments stemming from lawsuits. Lee said the company had suffered one contract dispute that resulted in all four of the lawsuits, then turned the conversation to lawsuits that had been filed against the city that Lumumba represents. Lumumba said that, as a lawyer, he could explain the difference in those lawsuits and the four against Lee, that Lee just didn't even show up to defend his company in court, and that's what a default judgment was.
• Lumumba said he doesn't think Lee is a "bad guy"; he said he just needs "an opportunity to gain experience." "With the people he's aligning himself with," Lumumba said, "it's going to be hard to turn his back on those people when they come asking for things," he said, referring to Lee's heavy-Republican-leaning donors. (Lumumba also name-checked the Jackson Free Press for reporting that Lee's supporters had given $1.2 million to federal Republican candidates and PACs since 2008.)
• When Lee pressed Lumumba on his record as a City Councilman, Lumumba touted his record as an organizer and pointed to initiatives he created like the People's Assembly, a group that meets four times a year to bring city leadership to meet the citizens of Ward 2, which Lumumba represents. When Lee suggested he hadn't done enough about the crumbling streets and slow economic growth, Lumumba trivialized his position on the City Council, saying he had little power because it is a legislative body, not executive.
And so it went, with the two candidates talking over and interrupting each other to the point that one member of the crowd shouted, "Y'all are like first graders!"
In another instance, a crowd member yelled, "Moderators, please do your job!" The Clarion-Ledger's Sam Hall asked again that the audience keep their comments to themselves. "Then do your job!" the audience member responded.
The candidates went back-and-forth on the campaign ads that have been floating around the last week, including a TV ad from the Lee campaign showing what Lee called "sound bites" of Lumumba making seemingly radical statements about his Christian faith, President Barack Obama and his general feelings about police, and a radio ad from U.S. Rep. Bennie Thompson politically aligning Lee with his conservative, big-money supporters.
Lee circled the wagons on his claim of being the unifying candidate, but said that 70 to 75 percent of his donations were $250 or less (which means he is not required to reveal who made them). Lumumba pointed out correctly that six of Lee's biggest supporters had given substantial money to Mitt Romney in an attempt to unseat Democratic President Barack Obama last year, drawing an audible stirring from the crowd. Lumumba refuted the charges made against him in Lee's ad, saying he was taken out of context on every count.
Both candidates closed the debate by requesting the votes of the roughly 16 to 20 percent of Jackson voters who are still undecided.
When it ended, there were audible shouts for Lumumba from the audience.
More like this story
More stories by this author