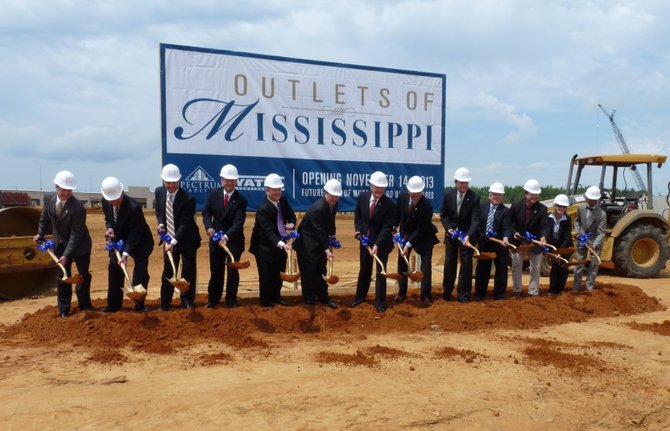 Yates construction, Spectrum Capital and the state of Mississippi officially broke ground on one of the state's most aggressive commercial developments to date: the Outlets of Mississippi Thursday morning in Pearl.
Governor Phil Bryant, Lt. Gov. Tate Reeves, House Speaker Philip Gunn, Pearl Mayor Brad Rogers and other elected officials gathered for a ceremonial groundbreaking on the 325,000-square-foot project that has already been under construction for months.
Privately owned Spectrum Capital, a Jackson company, funded construction of the 80-store, $1 billion outlet, which will be the largest outlet shopping destination in Mississippi. The center is expected to create 1,600 jobs and is located less than 10 minutes from Jackson where Interstates 55 and 20 meet in Pearl.
"The retail business does a remarkable job of hiring people who are low-to-moderate income," Bryant said. "That means a lot of those people will come off of some type of government support that they might have and work here, so that's a double benefit for the state of Mississippi. But here in Rankin County, this will be a destination location. People will come from all over the United States and the southeast. We've got the Mississippi Braves and the Bass Pro Shop, now we have the one of the world's premier outlet malls. This is another key day for Mississippi's effort to move forward."
The project is expected to open Nov. 14, just ahead of the traditional holiday shopping season, and is set up to be a cultural experience for shoppers, not just a commercial center. Bryant said Thursday the expected 4.5 million visitors each year will get a chance to "learn about Mississippi's history, listen to Mississippi's music and eat Mississippi's food."
Thursday was a day for backslapping and thanksgivings for the political leaders who made it possible for the project to come to fruition, as construction continued in the backdrop. In February, the Mississippi Legislature passed a bill to give $24 million in tax credits to developers of the outlet mall, designating the site "cultural retail" so it could take advantage of the credits normally reserved for tourism projects.
Spectrum Capitol Vice President Jason Voyles thanked Gunn, Gunn thanked Yates Construction owner Bill Yates, Rogers thanked Rankin's State Senator Dean Kirby, and everyone thanked Bryant, who is hot off a month-long circuit of groundbreakings around the state. That tour included the proposed Yokohoma Tire facility in West Point and two GE facilities opening in Batesville and Ellisville.
"It's amazing if you look at the last 30 days," Bryant said. "Two thousand jobs with the Yokohoma Tire Company opening a factory in Clay County; (General Electric) opens its second jet engine factory in Ellisville; and Roxul, one of the world's leading insulation manufacturers, opening a their first North American facility in Marshall County. It's keeping us busy, and it's great, because Mississippi works."
More like this story
More stories by this author