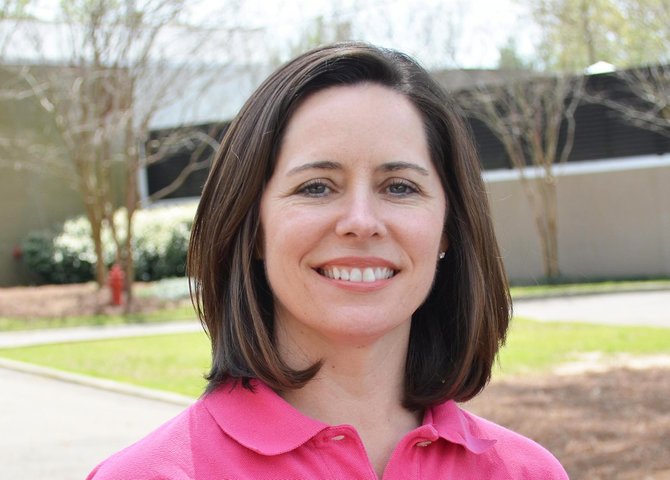 Like many college students, Susan Geiger didn't have a clear career path when she entered University.
"I wanted to find something that I would get excited about every morning," Geiger said. "I never thought I'd go into health care."
One Thanksgiving weekend, though, everything changed.
Geiger received a phone call about a friend who had been involved in a car accident—he had suffered a major head injury. Naturally, she went to the hospital to visit him.
"When I walked in and saw him, it just broke me," Geiger said.
That was the moment Geiger decided she would become a physical therapist.
Happily, Geiger only had to add a few courses to her mathematics major at Mississippi State University to pursue this career path. This, Geiger said, cemented her decision. Geiger went on to earn two bachelor's degrees, the first in mathematics from Mississippi State University in 1994, and the second in physical therapy from the University of Mississippi School of Health-Related Professions in 1996. She earned her master of business administration from Millsaps College in 2002.
The Tupelo native has been a physical therapist for 17 years, most of which have been spent at Methodist Rehabilitation center, where Geiger, 42, is the manager of outpatient growth and development. She primarily works with patients who have inner-ear and balance problems. Her patients tend to be elderly and, according to Geiger, have wonderful stories to tell.
"I learn as much from them as they do from me," Geiger said.
Due to her work with patients suffering from multiple sclerosis, Geiger recently earned the title of 2012 Health Professional of the Year from the National Multiple Sclerosis Society's Alabama-Mississippi Chapter. Her work with MS patients includes teaching workshops and participating in multiple sclerosis awareness, including the "Free From Falls" program.
"I was completely surprised," Geiger said of receiving the award. "It was more of a recognition of people getting involved."
Geiger's work also includes volunteer efforts. Her next project will take her on a mission trip to Peru with her church, First Presbyterian of Jackson. While in Peru, Geiger will have the chance to practice physical therapy.
She and her husband live in Jackson with their daughter, who is in junior high.
More like this story