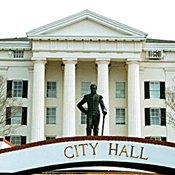 Monday, July 8
4 p.m., Jackson City Council Meeting at Jackson City Hall (219 S. President St.). Open to the public. Free; call 601-960-1064; jacksonms.gov.
6 p.m., MAC Mississippi Sports Medicine All-Star Basketball Games at Mississippi College (200 Capitol St., Clinton) in A.E. Wood Coliseum. The girls' games start at 6 p.m, and the boys' games follow. $5; call 601-924-3020.
6 p.m.-7:30 p.m., New Foundation Toastmasters Club Meetings at Mississippi e-Center at Jackson State University (1230 Raymond Road) in the Nebraska Room. Practice impromptu speaking, active listening, evaluation and leadership skills. Call for information on membership dues; call 601-918-5164 or 601-896-4400; email veleriaj@aol.com or artmaat@aol.com.
Tuesday, July 9
6:45 a.m.-7:45 a.m., Mission Mississippi Prayer Breakfasts at Mission Mississippi (840 E. River Place, Suite 506 ). Mission Mississippi hosts the event to encourage unity across racial and denominational lines. Visit the website for a schedule and locations.. Donations welcome; call 601-353-6477; http://missionmississippi.com/.
noon-1 p.m., "Guess Who's Talking Now" Toastmasters Club at Woolfolk Building (501 N. West St.) in the first-floor conference room. Improve your communication skills, and become a better speaker and leader. Membership required. Free to visitors; call 601-359-6653 or 601-359-2573.
5:15 p.m., Public Policy Toastmasters Club at Universities Center (3825 Ridgewood Road) in the computer lab. Improve your communication skills, and become a better speaker and leader. Membership required. Call for details on membership dues; call 601-540-8472 or 601-432-6277.
Wednesday, July 10
11 a.m., Choctaw Indian Fair July 10- 13, at Choctaw Reservation (Highway 16 West, Choctaw). Includes the Choctaw Indian Princess Pageant, stickball games, music and more. Performers include Josh Turner, Pat Green and Justin Moore. July 13, the Rez Run is at 7 a.m., and meet Si and Alan Anderson of A&E's "Duck Dynasty" from 1-4 p.m. $12 one day, $20 four days, $7-$12 students, children 5 and under free, $10 Duck Dynasty Experience, $15-$25 Rez Run; call 601-650-7450 (fair) or 601-650-1765 (Rez Run); email info@choctaw.org; choctawindianfair.com.
11:30 a.m.-1 p.m., Pushlocal Seminar for Nonprofits at Sal and Mookie's New York Pizza and Ice Cream Joint (565 Taylor St.). Learn how to use the pushlocal app to improve your mobile marketing tactics. For nonprofits only; RSVP. Free admission, food for sale; call 368-1919; email liz@dollarsandsensecreative.com.
11:45 a.m.-1 p.m., Jackson 2000 July Discussion Luncheon July 10, at Arts Center of Mississippi (201 E. Pascagoula St.). Jackson Mayor Chokwe Lumumba speaks on the topic "My Vision for the City." RSVP. $12, $10 members; call 960-1500; email bevelyn_branch@att.net; jackson2000.org.
noon, History Is Lunch at William F. Winter Archives and History Building (200 North St.). Dr. Michael Trotter talks about the history of health care in the Delta. Free; call 601-576-6998.
8:30 a.m.-noon, Mississippi Inspectors: Building Mississippi at Old Capitol Museum (100 S. State St.). Children entering grades 4-6 explore a historic neighborhood, plan a city, create a model of Mississippi and more. Pre-registration required. Held July 15-19. $50; call 601-576-6800.
6 p.m.-7 p.m., Downtown Jackson Toastmasters at Plaza Building (120 N. Congress St.) on the 12th floor in the Common Room. Learn to communicate better in front of groups and with peers. Call for membership information. Free; call 601-940-5247; email downtownjackson@gmail.com; http://1275010.toastmastersclubs.org.
6 p.m.-8 p.m., OFNA Party With A Purpose - Code Enforcement/Beautification at Duling Hall (622 Duling Ave.). In the auditorium. OurFondren Neighborhood Association encourages Fondren residents to enjoy refreshments, socialize with neighbors, and discuss ways to support the Fondren Neighborhood. RSVP. Free; call 601-942-8175; email smbarrett1@comcast.net; ourfondren.com.
Thursday, July 11
9 a.m., COMSTAT Meeting at Jackson Police Department Headquarters (327 E. Pascagoula St.). The JPD shares the latest Jackson crime statistics at the biweekly meeting. Open to the public. Free; call 601-960-1375; jacksonms.gov. 5 p.m., Party Gras at Table 100 (100 Ridge Way, Flowood). Enjoy three New Orleans-themed cocktail tasters in the bar. Proceeds benefit the Mississippi Burn Foundation. $10; call 601-420-4202.
5 p.m., Five O'Clock Somewhere at Fairview Inn (734 Fairview St.). Enjoy drink specials and appetizers at Zip39's monthly networking event. Free; call 948-3429; email zip39@madisoncountychamber.com.
5:30 p.m.-7 p.m., Women for Progress Live Radio Broadcast at WMPR 90.1 FM and wmpr901.com . Dorothy Stewart and Willie Jones host the program. Topics include education, economics and politics. Call-ins welcome at 601-948-5950. Free; call 601-918-5137.
6 p.m., Minority Business Network Monthly Meeting at Divine Ministries (1417 W. Capitol St.). In the Multipurpose Center. Learn ways to grow your business. Refreshments and door prizes included. Bring business cards. RSVP. Free; call 601-750-2367 or 601-316-5092; email dhardy@minoritybusinessnet.org; minoritybusinessnet.org.
6 p.m., Precinct 2 COPS Meeting at Jackson Police Department, Precinct 2 (711 W. Capitol St.). These monthly forums are designed to help resolve community issues or problems, from crime to potholes. Free; call 601-960-0002.
6 p.m.-8 p.m., Hinds County Democratic Executive Committee Meeting at Mississippi Immigrants Rights Alliance (612 N. State St.). The meeting includes a Q&A session. Open to the public. Free; call 601-969-2913; email jnorris@mississippidemocrats.org.
6:30 p.m.-8 p.m., New Vibrations Network Gathering at Unitarian Universalist Church (4866 N. State St.). The mixer is held every second Thursday from 6:30-8 p.m. Bring business cards and brochures to share. Free; donations welcome. Free, donations welcome; email newvibrations2003@hotmail.com.
Friday, July 12
8 a.m.-9 a.m., Coffee and Contacts at Eubank, Betts, Hirn and Wood (3820 Interstate 55 N., Suite 100) . The Madison County Chamber of Commerce hosts the monthly networking event. Bring at least 50 business cards. Free; call 601-605-2554 ; Madison County Chamber of Commerce.
9 a.m., Friday Forum, at Koinonia Coffee House (136 S. Adams St., Suite C). This week's speaker is Jackson City Attorney Pieter Teeuwissen. Free; call 960-3008; email koinoniafridayforum@gmail.com.
11:30 a.m., Jubilee Picnic, at Jackson State University's Margaret Walker Center (Ayer Hall, 1400 John R. Lynch St.). The celebration with food and music is in honor of the late author's 98th birthday. Free; call 601-979-3935; jsums.edu/margaretwalkercenter.
6 p.m.-9:30 p.m., Parents' Night Out at Brighton Park (530 S. Frontage Road, Clinton). Parents get a break by dropping off their children in grades K-6 for pizza, a movie, games and more. RSVP. $8 per child; call 601-924-6082; clintonparksandrec.com.
Saturday, July 13
8 a.m., The Color Run 5K at Mississippi State Fairgrounds (1207 Mississippi St.). The race starts on High and Madison streets. Runners and walkers get color bombed along the race route. Wear white T-shirts. Proceeds benefit the National Council on Alcoholism and Drug Dependence (NCADD). Individuals: $45 through June 14, $50 after; team members (minimum of four): $40 through June 14, $45 after; email info@thecolorrun.com; thecolorrun.com/jackson. 8 a.m.-2 p.m., Jackson Metro Cyclists Brandon Ride at Shiloh Park (Shiloh Road, Brandon). Riders are required to wear helmets. Payment can be made in advance or on site. $10, members free, $25 membership; call 601-812-7018; jacksonmetrocyclists.com.
10 a.m.-1 p.m., Ice Cream Safari at Jackson Zoo (2918 W. Capitol St.). Sample more than a dozen ice cream flavors scooped by local television, radio and print media celebrities, and vote for your favorite flavor as well as favorite celebrity scooper. Advance tickets available. $12, $8.75 kids, $2 tasting fee for members $12, $8.75 children, $2 members; call 601-352-2580; jacksonzoo.org.
4 p.m.-5:30 p.m., Sick and Tired, and Seeking SOULutions at Afrikan Arts and Culture Studio (612 N. Farish St.). Our Community Against Racism hosts the forum on second Saturdays. The focus of the monthly forum is to provide African-centered cultural enrichment and work toward racial equality. Refreshments served. Free; call 601-979-1413 or 601-918-5075.
Sunday, July 14
1 p.m.-4 p.m., The Premier Bridal Summer Show: Weddings and Celebrations at Clyde Muse Center (515 Country Place Parkway, Pearl). The event includes door prizes, samples and consultations with wedding professionals. No strollers allowed. $17 in advance, $20 at the door; call 601-957-1050; thepremierbridalshow.com.
Ongoing
Computer Courses for Adults at Hinds Community College, Raymond Campus (501 E. Main St., Raymond). Classes usually meet once a week for four to eight weeks, and fees depend on the level and type of class. Free; call 601-857-3773; email mfield@hindscc.edu.
Senior Aides Program The city of Jackson offers the part-time job program to low-income seniors ages 55 and up. Receive assistance in finding a job during the training process. Applicants must have state ID, a Social Security card, proof of income and a utility bill. Free; call 601-960-0335.
Mississippi Youth Hip Hop Summit and Parent/Advocate Conference Call for Volunteers through July 20. Volunteers ages 19 and up with youth that are not participating in the summit are welcome. The conferences are July 20-21 at Millsaps College (1701 N. State St.). Free; call 601-354-3408, ext. 104; email ddenney@aclu-ms.org; tinyurl.com/2013MSYouthHHSVolunteerReg.
Summer Feeding Program through July 12, at participating JPS schools . The Food Service Department of the Jackson Public School District offers lunch on weekdays to youth ages 18 and under, excluding July 5. Free; call 601-960-8911 for a list of schools; jackson.k12.ms.us.