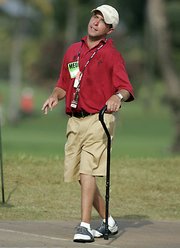 D.J. Gregory has loved golf since he was 9 years old, despite the fact that he was born with cerebral palsy, which prevents him from being able to play professionally. Doctors told Gregory's parents when he was an infant that he would likely be wheelchair-bound his entire life; however, after five surgeries Gregory eventually learned to walk with a cane. Gregory attended his first PGA event in 1990, when he was 12 years old. Today, he usually shoots between a 95 and a 102 when he plays.
In 2008, Gregory decided to follow his golf dreams in his own way by walking with a different player at each event on the PGA Tour. During the tour, Gregory covered more than 988 miles and 3,256 holes.
In late 2009, Gregory started the Walking For Kids Foundation, which gives professional golfers on the PGA Tour and sports fans the opportunity to support several children's charities. Throughout the PGA season, players pick a tournament they are participating in and pledge money for each eagle and birdie that they make that week. Gregory also holds an annual golf tournament that gives fans the opportunity to play with PGA players, celebrities and with Gregory himself.
"We expect to give over $101,000 to seven different charities with the money we've raised in 2012," Gregory told the Jackson Free Press. "We give to children's hospitals including St. Jude's and to organizations like United Cerebral Palsy. Giving to all these charities is what makes all the walking worth it. I appreciate the PGA players and all the fans."
Today, Gregory will present a $25,000 check on behalf of Walking for Kids to Blair E. Batson's Hospital for Children. The ceremony is at 2 p.m. in the hospital lobby.
For more information on Walking for Kids visit www.walkingforkids.org.
More like this story
More stories by this author