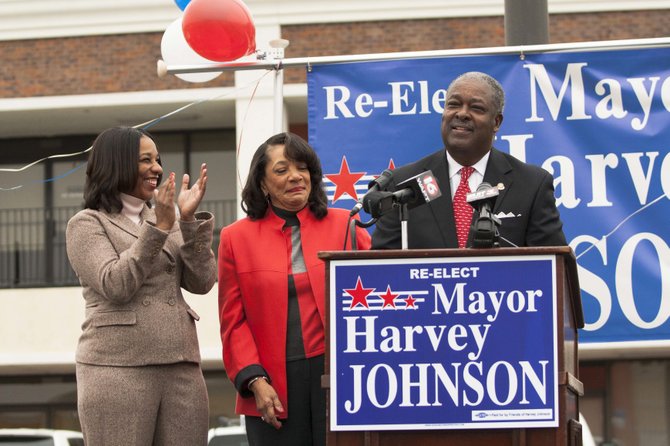 A chant of "Four more years, four more years," sprang from the crowd of a few dozen supporters as Mayor Harvey Johnson Jr. took the stage at Fondren Plaza Saturday to announce his campaign for re-election.
Johnson, Jackson's first black mayor, first took the office in 1997. Johnson told the crowd that when he took back the office of mayor in 2009 after losing the election in 2005 to Frank Melton, his administration faced monumental challenges. The city had dismantled its grant program, and the budget was bleeding, he said.
"When I took office in July of 2009, I reported to duty and went to work for the people of the city of Jackson--without the need, by the way, for on-the-job training," Johnson said. "We can't afford another derailment. Let's keep this city on track. Let's go forward, full steam ahead."
Whether as a father and husband, as an officer in the U.S. Air Force or as mayor, Johnson said his entire life has been about service to others. "I've spent my entire adult life working for change. It's been the highest honor of my life, however, to serve as your mayor," Johnson said.
Campaign volunteers Dorothy Triplett, Mary Crump and W.C. Gordon also spoke at the event. Triplett called Johnson "a man of faith and a source of hope" for the city.
"He has brought honor and reason to the office of mayor and so much progress to our city at a time when just holding on would have been such an accomplishment," Triplett said.
Johnson responded to reporters' questions about Sam's Club, which recently announced it is moving to Madison. He said that Sam's Club simply made a business decision. Johnson said his focus will be on bringing new business to the location Sam's Club will leave vacant. He pointed out other places in north Jackson, such as the former home of K-Mart on Interstate 55 South, where other businesses quickly filled the vacant space after the big-box retailer left.
"We have CarMax there now, and we have Comcast there. Across the street, Virginia College is moving into the old Brookshire's," Johnson said.
Several city employees and public figures, including Jackson Police Chief Rebecca Coleman, were in the audience for the announcement. Coleman had her left arm in a sling, and joked when asked by this reporter what happened to it.
"I tried to slap (Jackson Fire Department Chief Raymond) McNulty, missed and hit a wall," Coleman said.
"Is that the story you're telling everyone?" this reporter asked.
"Yes, and I'm sticking with it," Colman said with a laugh.
After the re-election announcement, Johnson provided hot dogs, hamburgers, chips and drinks for the crowd. Dozens of supporters hung around on the cool, damp afternoon talking, eating and listening to the blues riffs of guitarist Jesse Robinson, who played along with backing tracks on stage.
More like this story