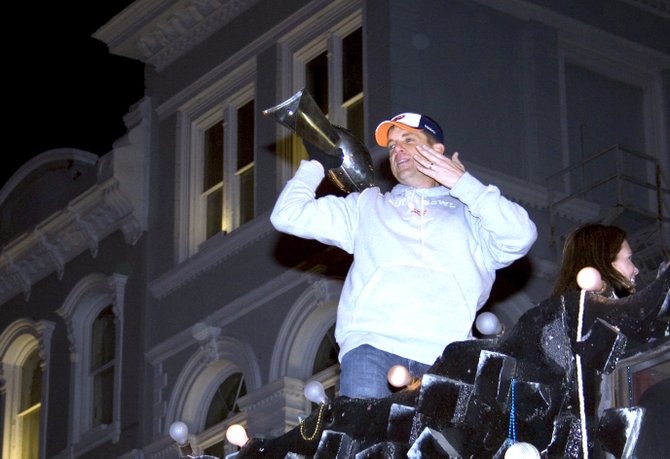 Finally, the last issue of the New Orleans Saints bounty scandal is resolved. On Tuesday, Jan. 22, Commissioner Roger Goodell and the NFL reinstated Saints head coach Sean Payton following a four-and-a-half hour meeting on Monday.
The move was a smart public relations decision by the NFL with the football world about to descend on New Orleans next week for Super Bowl XLVII with the San Francisco 49ers and the Baltimore Ravens. Goodell might not experience anger from Saints' fans with their coach returning this week. He could have if he had forced Payton to wait until after the Super Bowl to be reinstated.
Former NFL Commissioner Paul Tagliabue vacated the penalties of the players who were supposed to be suspended in early December of last year. Saints general manager Mickey Loomis and coach Joe Vitt finished their suspensions by the midpoint of last season.
Shortly after being reinstated, Payton released a statement:
"I am thankful today Commissioner Goodell has granted me reinstatement. As I stated back in March, I, along with Mickey Loomis, take full responsibility for all aspects of our football program. I clearly recognize that mistakes were made, which led to league violations. Furthermore, I have assured the commissioner a more diligent protocol will be followed. Lastly, I feel we have learned from our mistakes and are ready to move forward. I want to thank our owner, Mr. Benson, and all of our great fans for the overwhelming support throughout this past year. I am excited to be back as head coach of the New Orleans Saints!"
Goodell also released a statement on his decision to allow the suspended coach to return:
"We had a very productive discussion. Sean fully complied with all the requirements imposed on him during his suspension. More important, it is clear that Sean understands and accepts his responsibilities as a head coach and the vital role that coaches play in promoting player safety and setting an example for how the game should be played at all levels. We are committed to delivering football that fans love and the safety players deserve. Coach Payton agrees, and I look forward to working with him going forward to do that."
With Payton's suspension lifted, he is allowed to attend Senior Bowl practices this week and begin to look at the Saints' coaching staff. At the all-star practices, Payton will be able to join his coaches and scouts to look at some of the best seniors from last season in college football.
Payton held his first press conference yesterday at the Senior Bowl in Mobile, Ala., where media surrounded him. The Saints coach handled the media deftly and didn't discuss the specifics of his meeting with Goodell.
"We're at a point where it's time for closure. It's time for us as a team, it's time for us as a league, to take this next step forward," Payton said. "The most important element here is closure and all of us moving forward"
The coach was quick to say that the team's losing season didn't have much to do with the scandal. He also thanked the Saints fans for their support.
"Our fan base is unique. They'll travel further distances to see us play. As a player and a coach you want that," Payton said.
Payton will have decisions to make on his staff, especially on the defensive side of the ball. Last season the Saints gave up 7,042 yards, an NFL record but also had the club's first shutout in 17 years in a small showing of improvement as the season ended.
There was also a cautious tone to Payton's press conference after the team's first losing season since 2007. The coach explained that just because he was back leading the team, fans shouldn't expect a return to winning. He mentioned a conversation he had with Bill Parcells, a former NFL coach and Payton's mentor.
"Coach Parcells said to me that this mindset that you're back, and all of a sudden you're back to winning 11, 12, 13 games, doesn't exist--because you very well could win (only) five the next year," Payton said. "He's right. We've got a lot of things we've got to correct to get to where we want to go. That's just the truth."
The biggest loser in the Saints bounty scandal has to be former defensive coordinator Gregg Williams. The former coach can apply for jobs, but he is still suspended. Williams didn't receive any support from Payton.
"I have no interest in talking to Gregg," the Saints coach said.
More like this story
More stories by this author