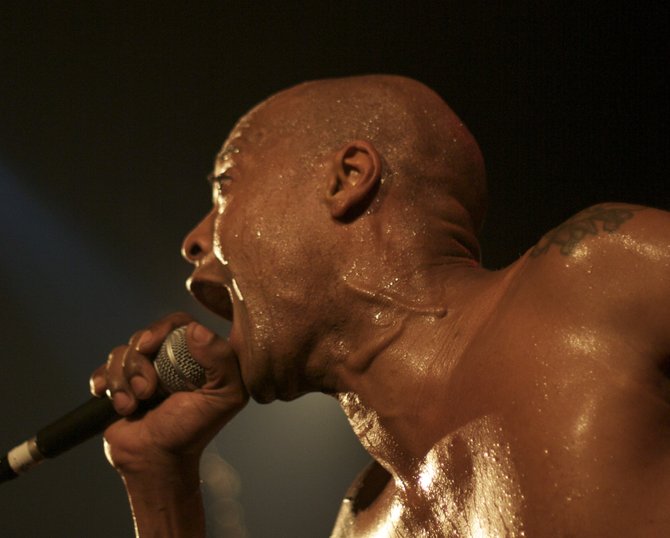 In 1995, punk rock was still going strong and new wave was bringing a different kind of music to a broader public. I was a senior in high school and found bands by watching MTV and the USA Network's New Wave Theatre. One of the most notable bands of that time was Fishbone, which released its first self-titled EP that year.
The crew of African American classmates started playing together in the '70s while in high school. Fishbone's sound blended punk, ska, reggae, soul, hard rock and even jazz. The band would influence bands like the Red Hot Chili Peppers, Primus, No Doubt, Sublime and many others.
A new documentary film about the band, "Everyday Sunshine," is available on Netflix and received a 100 percent rating from the website Rotten Tomatoes--a rare feat. I recently had a chance to talk with Norwood Fisher, bass player and original founding member of Fishbone.  
What was the first song you remember hearing that made you want to become a musician?
OK, that's a good one, man. ... It might have been "Hey Jude." Yeah, I had to go back and think, you know. That was my first 45. I remember staring at the apple as it was going around the turntable and that great outro.  
Fishbone fused together so many different styles. Is that what you set out to do?
It kind of just happened, but the fact is that we didn't know that you couldn't do it or that we weren't supposed to do it. The bands that we liked already mixed up a lot of stuff--like Funkadelic, The Clash and Bad Brains. And we were inspired by a lot more than that. I didn't know the term artistic license at the time, but that's what we were exercising.  
After the first record, the music became more political and social.
In 1979, when we first started playing, punk rock was brand new. Funkadelic and Joe Scott Harris had a reputation for being outspoken, and punk was politically charged on some level.
I was a fan of the first cast of "Saturday Night Live," which was amazing political satire. National Lampoon Magazine, George Carlin, Richard Pryor--that's the stuff that we were taking in, and it was influencing us. You've also got a guy, Joe Strummer, making very strong statements.
I was born in '65, and I remember my mother and her friends talking about Watergate, and there were movies about other artists in the '60s taking a stand, and I just thought that's what you do. We noticed there were other artists that didn't have a thing to say politically but, you know, that was a choice and we were like ... guys that had something to say.
You know, in 1980, Ronald Reagan running for president just freaked me out. My first thought was, he's an actor--he is a professional liar. And I was just old enough to remember what my mom and her friends said and the complaints that they had when he was governor of California. So, yeah, all of that went into our music. We were teenagers, you know, and with signing up for the draft we thought, hey, I don't want to go die for that dude. It's just an observation from someone who was paying attention in the early '80s.
I've actually just recently become really quite aware of Woody Guthrie and his role in protest songs. I always knew his name and some songs, but I didn't really know much about him. I knew Bob Dylan, who he influenced, but I didn't know Woody.  
I look at some other bands, and their music has gotten repetitive and sucks now. Fishbone's music still seems to be evolving. I thought the last record was great.
Well, that's the goal--keeping it organic--and it's more independent than ever. The fact is, we've maintained all the passion, so that comes through. Personally, I'm a fan of music. ... I still feel like a little kid when I'm in a room with Sly Stone or George Clinton. I think that's the part of me that keeps true to the original intention of Fishbone to make music with a certain kind of feeling and honesty. There are a lot of bands that when they got big sucked, and I looked at myself and thought, "I don't want to turn into that guy."
What music are you currently listening to?
I actually really like this band called Arctic Monkeys. There's a band called Viva Voce from Portland, Oregon. They're a husband and wife team. And they're not necessarily new, but I love the Aggrolites and Westbound Train. There's also a band called Downtown Brown. They're insane, but they're amazing players. I think we'll have this artist with us in Jackson named Sista Otis that I produced. She's one of my favorite artists ever.
So what's next for Fishbone?
We actually have five songs in the can that I'm working towards releasing as an EP. Hopefully, it will be out before we hit the road. If not, we'll get it out at some point, and we're working towards a full-length release right now to follow that up.
More like this story
More stories by this author