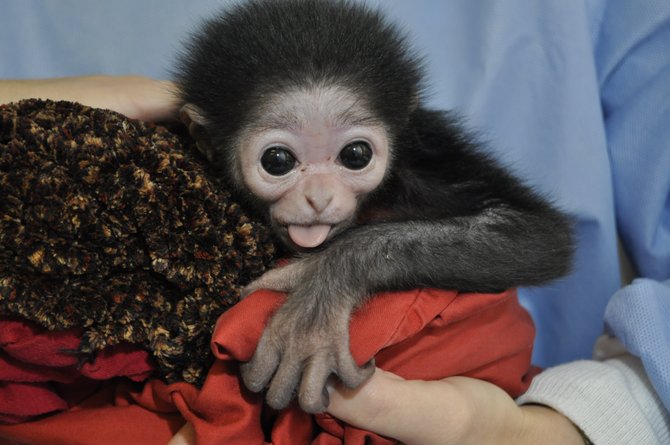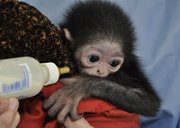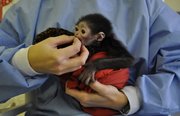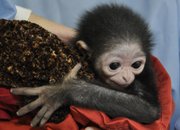 Barely one month old, a new addition to the Jackson Zoo is already capturing hearts.
A female white-handed gibbon, Jari, was born Nov. 22 and weighed 1.3 pounds. She is under the care of the veterinarian technician at the zoo.
"Jari was born perfectly healthy with no medical concerns and is doing well," said Dave Wetzel, deputy director of the Jackson Zoo.
She requires full-time care and attention to remain healthy. Zookeepers feed Jari a half-ounce of formula every two to three hours. She will be weaned off the formula with increased amounts of cereal added every three or more months. Soon, Jari will be able to enjoy a gibbon's normal diet of fruits, leaves, seeds and perhaps a bird once in a while.
Jari, which means finger in Indonesian, and her parents are the only three gibbons at the Jackson Zoo. Jari's parents are also enjoying longevity. Jari's mother—Mia, 22—was born at the Reid Park Zoo in Tuscon, Ariz., and her father—Cookie Man, 36—is a lifelong member of the Jackson Zoo.
The International Union for Conservation of Nature lists gibbons as an endangered species due to hunting and deforestation in Thailand, Malaysia and Indonesia. The forests in these countries give the gibbons what U.S. habitats cannot provide. The Jackson Zoo is aware of this fact and devotes special attention to Jari so that she can have a long and healthy life, zoo officials said.
The Jackson Zoo welcomes visitors to stop by and see Jari weekdays at 11 a.m. through the zoo's vet hospital nursery window.