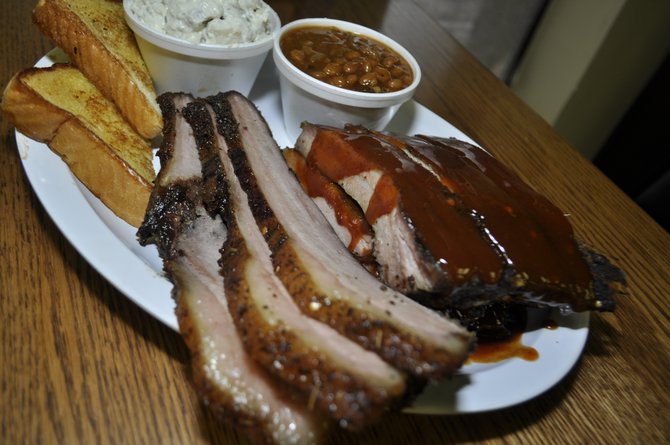 "The sound of them gnawed rib bones hittin' that bucket are like music to my ears," Thelma Harper said on "Mama's Family." Tell it, Thelma. Preach it like you mean it. I'll shout my "Amen!" from way up in the choir loft. I'll come down front and share my meaty testimony. I love ribs, and I don't care who knows it.
There is something so visceral, so primal and yet so perfect about eating ribs. The flesh yielding to the tooth. The tooth scraping the bone. The feel of wet sauce on your cheeks. The oh-hell-I'm-committed-to-this-and-I-don't-give-a-damn-about-the-messy-consequences joy of letting yourself go and giving in to urges that stem back to your caveman roots.
Ribs don't appeal to our frontal lobes—no, sir. They set synapses ablaze deep in the reptilian core of our brains. Way down in the medulla oblongata where we breathe without thinking, ribs reside. Tucked away in the amygdala where aggression and emotion rule, you'll find ribs, spurring on the action.
On Social Media: Carnivores
What is your favorite barbecue joint in Jackson and why?
Stephanie Burks E&L, no explanation necessary.
Scott Tennon Hands down, E&L BBQ! It's a Jackson institution known for its dipped fried chicken wings, smoked ribs, tips, chicken and links. And don't forget the baked beans and sauce on fries!
Debbie Weathersby Sylvester's between Jackson and Raymond on Highway 18 has the best flavored BBQ I've ever had. Meet is also tender.
Lea Gunter My favorite barbecue joint is Tin Shed in Clinton, because it has the best pulled pork!
Alicia Corley Of course, E&L is the very best! #sauceonfries
Charlene Williams State Street BBQ. Fantastic food, great beer selection and the best customer service around!
Phillip Ley Louise's in Crystal Springs. Best ribs are at Hog Heaven (Chevron Station) across from Mirror Lake in Flowood.
John Doude E&L is one of my favorite in the entire southeast. I used to live a couple blocks away.
Daniel Moore Sylvester's, agreed.
Jamie Latimer One vote for Sonny's on Highway 80!
Bianca Snowden Gators. Corner of Terry Road and Savannah Street. Meat falling off the bone good, and sauce is finger-licking good.
Jay Herring Hickory Pit! Overall great food and service.
Dave Clark Pigskin. No question about it. If you don't agree, it is only because you haven't eaten there yet!
Lindley McKellar E&L rib tip/sausage plate with sauce on the fries and a Faygo.
See also:
On Social Media: Unique Dishes