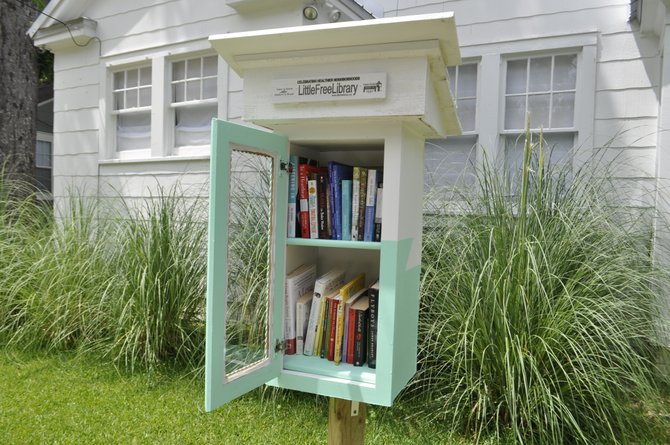 Tiny homes for books are popping up in Fondren as part of a movement to promote literacy among children and adults. They are Little Free Libraries: small public boxes that contain free books of all varieties, but exclude magazines and newspapers.
Little Free Libraries Ltd. is a nonprofit tax-exempt organization that two men, Todd Bol and Rick Brooks, founded in 2009 in Wisconsin. Now these free libraries are spread across the country and to other nations as well.
A steward in the community runs each Little Free Library independently, to manage the upkeep of the library box. Jackson has two Little Free Libraries. Mary Amelia McRee manages one outside her shop, Fondren Muse, and Susan Schmeig is a steward for a Little Free Library in the Fondren neighborhood, which she runs with her other half, Tommy Weatherford.
Each steward can design the library as he or she prefers. Schmeig's box is a more ornate box rendered in mostly primary colors, while McRee's box reflects the minimalist style of her store, with a long, thin design and a color scheme of bright white and seafoam green.
Schmeig started the first mini library in the area, at 608 Chickasaw Ave. She first heard about Little Free Libraries through her sister, who runs one in Arkansas. "I hadn't heard about them before," she says. "My little sister lives in Arkansas and has one there, and she made me one and registered it here in Jackson. So ours is the first one registered in Jackson. There's others in Mississippi as well."
Although the movement is worldwide, the individual libraries operate on a community level.
"The idea is that the books are free. It's always free. It's always a gift," Schmeig says. "You can come a take a book or leave a book, and it's kind of just a free exchange of books within a small space. They're in little communities, so you get to know your neighbors and get the 
community involved."
The process of giving and takings books is simple. "It's kind of a lending library sort of thing. You just come by," Schmeig says.
"We have it set up just a few steps off the street. So people can just step up and open the door and poke through what's in there. It holds about 25 books and you just pick up some that look interesting to you."
Schmeig says so far, children seem to love the library the most. "What I'm seeing in our traffic is kids," she says. "They get excited to come look at the books, and they like the design of it.
"Kids reading is important to me. They just don't do that anymore. When they do, it's on an electronic thingy. There's just something wonderful to me about holding every old book and flipping the pages."
Visit littlefreelibrary.org for more information or to learn how to open a Little Free Library of your own.
More like this story