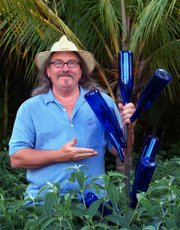 Felder Rushing is a man whose gardening roots run deep. Both sides of his family tree came to America in the 16th and 17th centuries, and set up farms and gardens across the Southeast.
"I was raised by gardeners," Rushing said. "When I was a kid, I decided I wasn't going to waste my time mowing grass. Basil and herbs are just as beautiful, so why not grow them, too?"
Rushing is the founder of the Slow Gardening movement, an approach to growing that focuses on finding and following personal garden bliss and using all the senses through all seasons.
"Slow gardening encourages people to just grow a few herbs and a few flowers in their gardens to make themselves more self-reliant," Rushing said. "It makes them feel better. It helps you grow food without feeling like you're a farmer.
"I came up with Slow Gardening working with a group called Slow Food out of Italy," Rushing said. "(Slow Food) encourages people to grow things that are locally adaptable. Mississippi, for example, is a great place to grow sweet potatoes; they're well adapted locally. The movement is also about getting gardeners to share what they grow with other people. It's also to help people get out and savor their gardens. There are all sorts of people in Fondren, for instance, growing vegetables and herbs right in their front yards."
Rushing is the author or co-author of 18 gardening books as well as thousands of gardening columns in syndicated newspapers. He has also had hundreds of articles and photographs published in regional and national garden magazines such as Garden Design, Better Homes and Gardens, Organic Gardening and National Geographic. Rushing is the weekly online Q&A blogger for HGTV.com and hosts a popular weekly call-in garden program on NPR affiliate stations called "The Gestalt Gardener."
Rushing values gardening for the pure enjoyment of it, and encourages others to do the same.
"Gardening is a right brain activity. Horticulture is left brain activity," Rushing said. "Horticulture is about growing it, getting it out and growing it again. It's product oriented. Gardening is fun and easy. It's about just getting out there and having a good time. Lighten up. Wall-to-wall grass isn't a requirement to be an American. There's nothing wrong with growing food in your front yard. Slip in a few herbs—no one will notice."
Tonight at 7 p.m., Rushing will give a lecture at Millsaps College's Ford Academic Complex Recital Hall as part of Millsaps' Art and Lecture Series. Robin Mather, senior associate editor at the Mother Earth News Magazine, will also be present to discuss horticulture, whole food and other movements. Tickets are $10 at the door ($5 for students). Visit Millsaps' website for tickets and more information.
For more information on Rushing, visit his website. You can also learn more about the Slow Gardening movement at the movement's website.
More like this story