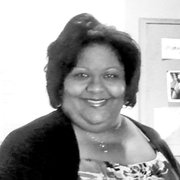 Growing up on a quiet street in the Hanging Moss area of north Jackson was a wonderful experience. Living on a street with moss-draped trees, my memories were made more colorful by the people who lived on that street. The Smith family was among them.
Before he became Det. Eric T. Smith, homicide detective for the Jackson Police Department, he was simply known as "The Twin." Eric and Cedric Smith--the "twins"--were inseparable. They were fun loving, energetic, athletic, polite and somewhat quiet. They both had a large circle of acquaintances in school and they were often a two-for-one friendship package.
Eric had an "old soul," as folks used to call it. He was quiet; reserved, yet outgoing; and tactful, yet honest. People looked to him as a leader.
I remember his mother as a statuesque woman. You could always count on seeing her at PTA meetings, athletic events and other school activities. If mothers have a special bond with their sons, it was evident in Mrs. Smith. Her love for her children was undeniable.
During our school days, Eric was often noticeably lost in thought, but he would never disclose if anything was bothering him. He just smiled and moved on to another subject. Eric seemed to be one of those kids who never stressed about the woes of growing up. He and his brother were model students, always respectful of their peers and instructors. Eric was loved by his teachers and adored by his friends.
Eric served in the U.S. Marine Corp after graduating from Callaway High School in 1990. Although he excelled in military life, you would never know by talking to him. Eric did not brag about his time in the Corps, and did not look for a hero status. He entered the military to serve his country, not for the recognition he might have received from his position.
Shortly after his promotion to the JPD homicide division, Det. Smith became a close acquaintance with a superior officer. I had the opportunity to speak with Eric's former commander, who spoke fondly of Eric as though he were still with us.
"I've never seen someone as even-tempered as Detective Smith," he said. "He was level headed and always the same way. Whether you saw him after he just arrested a murder suspect for a heinous crime, or he was on the way to a restaurant to eat, he would have the same expression. Eric was a very private person. You could talk to him for hours, but you may not walk away knowing much more about his private life than you did when the conversation started. This was not a rudeness, but Eric just didn't talk much about himself. He was not the type of person that would brag or be prideful."
Eric did not appear easily frazzled, even when he dealt with cases that could have easily put a lot of us in a state of anger, hatred, fear or depression. Eric's calm demeanor and even temper did not indicate a lack of feeling or compassion, quite the opposite; it showed Eric's strength and tenacity.
Before becoming a detective, Eric could be seen in his JPD uniform at Jackson State University games at Jackson Memorial Stadium. He was not one of those officers that had to make a large presence. He would stand quietly, observing the crowd, waving at those he knew and smiling at those he didn't know. Some have said that Eric's smile could make a person feel as though they were the only priority at that moment.
Many people may not understand the burden of being a police officer, especially in the homicide division. Eric would often be one of the first officers on the scene and one of the last ones to leave. We often think of the grief of the victim's family but not the grief of the suspect's family. Eric carried the burden for many of these families: when the family members would call Eric to ask for help, for answers, for guidance, or sometimes just a listening ear, Eric was there to offer all of those things.
His life was filled with many long hard days, and his responsibilities were numerous as a husband, father, brother, son, mentor and friend.
A Facebook dedication page has been set up as a memorial for Eric and, as of April 12, the page has more than 7,700 "likes" and 27,000 comments. Police chiefs and law enforcement agencies from across the country have posted condolences for the fallen officer. Friends of friends that never knew Eric have offered prayers and words of encouragement to those who knew Eric well.
Eric's personal Facebook page has a final post on April 3, the day before his passing, that reads "Long day at work. Time to head West." It brought tears to my eyes as I thought of it being Eric's last post for all of us to see. Just as the sun set in the west, so did Eric's time with us.
Sherry Wallace-Burns is an RN specializing in health-care information technology. She enjoys traveling, photography, spending time with friends and family, and taking in all the wonderful things life has to offer.