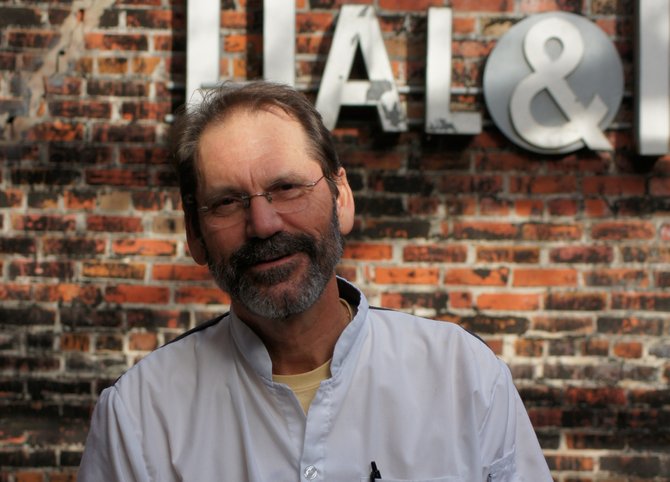 Brothers Harold and Malcolm White, commonly known as Hal and Mal, had a vision. They wanted to create a gathering place for all of Jackson--a bar, but also a family restaurant that serviced a wide array of customers from every walk of life.
Boy, did they succeed. The now-landmark bar and restaurant known as Hal and Mal's on South Commerce Street has grown into a social hub for much of Jackson.
The capital city rightly celebrates the White brothers' success, but now comes the hard part: admitting the joint may just never be the same.
Last Thursday, one-half of the establishment's two-man namesake, Harold "Hal" White, passed away after suffering a brain aneurysm. The void left by the business' half-owner, soup chef and officially-unofficial spiritual leader is one that is impossible to fill, both for the restaurant and for Jackson.
"Hal was the rock, and I was the roll," Malcolm White said Sunday night. "His passing has touched an incredible nerve with a huge population of people who recognize a couple of things: One, they recognize the hard-working, steady guy, sort-of unsung hero in this story. Two, they recognize the love and the partnership of a set of brothers who supported and worked hand-in-hand to achieve the American dream."
What the two brothers achieved is a great success story by itself, but the story of how they got there is even better.
They came up with the idea while they were competing against each other as rival assistant general managers of hotels 
in Hattiesburg in 1975. Malcolm ran the Ramada, Hal the Holiday Inn.
The duo cooked their plan, much like Hal cooked his famous soups, slow and steady, in New Orleans for two years while living in an apartment on Royal Street. They worked together at the Bourbon Orleans Hotel, where Malcolm served as assistant general manager.
"We would be in New Orleans at Pascal's Manale restaurant and say 'OK, our oyster bar is going to look like this,'" Malcolm said. "We would go catch live music at Tipitinas and say, '... and our place for live music is going to look like this.'"
They split up in the late '70s, but only briefly, and it ended up being the perfect setup for what came next. While Malcolm learned the business of live music and tied himself to various projects in Jackson, Hal earned money working in oil and met the love of his life, Ann Getwan, in a Columbus boot store.
Malcolm signed the lease to the warehouse on Commerce Street where Hal and Mal's stands today, in 1983. It was a two-night-a-week operation at first, with 25-cent longnecks and a DJ on Wednesday nights, and $5 all-you-can-drink beer on Saturdays with a black show-band.
When it became apparent the drinking age was going to change in 1985, Malcolm called his brother and told him he'd found the site for their restaurant, and it was time to act on their dream. Hal obliged. He moved to Jackson and got a job at Paul's Restaurant on Highway 80. He worked there at night, and he and Malcolm fixed up the future site of Hal and Mal's during the day.
They opened in 1985 and immediately started booking acts like The Temptations, Albert King, Tyrone Davis and Delbert McClinton. They got the crowd from Southeastern Conference football games at Veterans Memorial Stadium. They raised money for just about every fundraiser in town, and they built a mini-community right there in the bar.
Business boomed for a decade. Then people started leaving Jackson. For big acts, the casinos in Vicksburg and on the Coast could pay triple what Hal and Mal's could. Ole Miss and Mississippi State took their footballs and went home, and the economy of Jackson slid into a recession as businesses left town.
"We went through some really hard times, too," Malcolm White said.
"We missed on the microbrewery. We opened it up 10 years too soon, and ended up closing it down four years before the craft-beer boom hit. But we were always trying stuff and always experimenting. We tried Soulshine Pizza, and at one point opened up a disco in the red room."
The brothers never did recapture that fast-money atmosphere, but they hung in there. Today, the restaurant helps support about 12 families and is still providing a quality product and family atmosphere. It's the nerve center of the Mal's St. Paddy's Parade, which brings millions of dollars into the local economy every year.
At Hal's funeral Monday morning at St. Richard's Catholic Church, a standing-room-only crowd paid their respects. As if that wasn't hard enough, there are decisions that have to be made about the future of the restaurant.
"We are going to keep it open and see how that all plays out," Malcolm said. "It supports a lot of people, and we have employees and friends that have worked there 10, 15, 20 years--people who have been with us since the beginning. There's been no conversation about closing it."
Mal said he's even more inclined to keep it open now than he was two years ago, given the resurrection of the downtown community and his belief in Jackson's future success.
"It's beginning to circle back around, and we're beginning to feel a little bit better footing. The downtown revitalization is coming around. ... The way we look at it, every time someone moves into an apartment downtown, our chance of survival increases."
Read Tyler Cleveland's complete interview with Malcolm White. Email Tyler at tyler@jacksonfreepress.com.
More like this story
More stories by this author
Like independent media outlets around the world, the Jackson Free Press works hard to produce important content on a limited budget. We'd love your help! Become a JFP VIP member today and/or donate to our journalism fund. Thanks for considering a JFP VIP membership or one-time support.