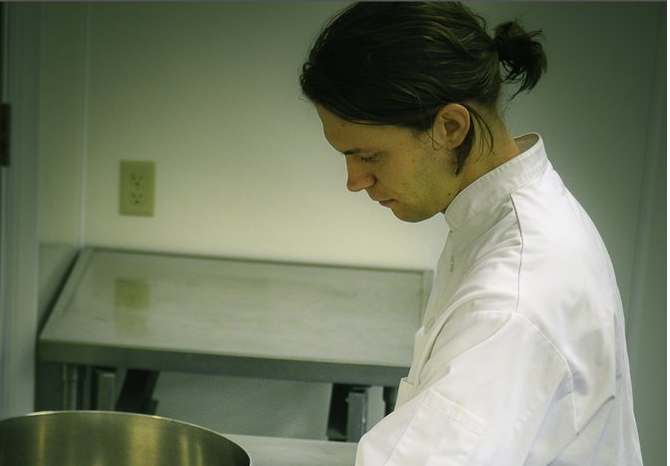 "Yes, Chef! No, Chef! I will have it right away, Chef!"
For the past three years, these words have been my main vocabulary in the kitchens at the New England Culinary Institute.
Starting out as a lowly line cook aspiring to be a chef in Mississippi, I had no idea about the world of rules and regulations in a kitchen. I thought it consisted of coming in, doing your job and going home. Working throughout the state, I learned from chefs such as Ken Dixon and Ty Thames that it is so much more than that.
My grandmother and grandfather's garden in Carthage was my first introduction to real food. Every time I stayed at their house in the country, I would eat three fresh meals out of their dirt each day. It wasn't until I was a young adult that I realized how important to me this was.
After talking with Chef Thames of Restaurant Tyler in Starkville one night after work, he inspired me to consider culinary school at his alma mater, the New England Culinary Institute in Montpelier, Vt.
"This place is great," Thames said to me. "Instead of showing you how to debone a chicken and then move on, they show you how to debone a chicken, and then give you a case of whole chickens and tell you to get after it."
It was these words that sold me. Two months later, I was in the snowy mountains of the American Northeast freezing my Mississippi ass off and wondering, hoping that I had made the right choice.
My first year at NECI was, in retrospect, quite humorous. I thought I was the man. I went in there thinking I was going to have this school begging me to become an instructor. But the chef instructors quickly put me in my place. Once I got over myself and started to take in what these culinary professionals had to teach me, I was amazed at the knowledge they put at my fingertips. My first class schedule overwhelmed me: Classic French Cuisine, Baking I, History and Culture of Cuisine, Product Management, Meat Fabrication I.
The chefs taught me so much more than I ever expected to learn: differences in beurre rouge and beurre blanc, the different mixing methods for pastries, the origins of different cuisines, how to identify certain products and where they come from, how to break down a whole pig into its specific cuts of meat—and this was only my first semester.
After that semester, it was time for my first internship, a six-month stint. I went to work for Shane Ingram and ONE Restaurant in Chapel Hill, N.C. There, I learned a lot from a seasoned chef who, like my chefs at school, had no time for any crap. I learned quickly that I had better keep my head down and do my work and respond quickly with a "yes, Chef," a "no, Chef," or when asked, a brief explanation to why I was such a f* up. But I was able to hone my new skills in the real world.
Upon returning to school after that first internship my classes were harder. I was expected to keep my knives razor-sharp, and have near-excellent knife cuts and a crisply ironed, clean brigade (aka chef's uniform). In this semester I learned how to perfect plating, make different cured meats, orchestrate banquet dinners, and I became one hell of an omelet-making machine. The chefs were tougher, and the work was harder, but the results were more rewarding.
My second internship was at Parlor Market in Jackson. I worked for a brief time under Chef Craig Noone. Before his passing, I learned a lesson that I will never forget: To be successful, you have to make relationships. Chef Noone taught me the importance of not only being able to create good food, but being personal with your guests: Get to know them, and make them feel at home in your establishment.
Now, one last internship is all that stands between me and graduation. The last six months here have been the hardest yet. Rarely in the kitchen, we learned the importance of being good business people. Many accounting, ethics and entrepreneurship classes later, I am pleased with the education I have received.
If I could give advice to someone considering culinary school, it would be to do research. Find the school that is right for you—you will get out what you put into it.
More like this story
More stories by this author