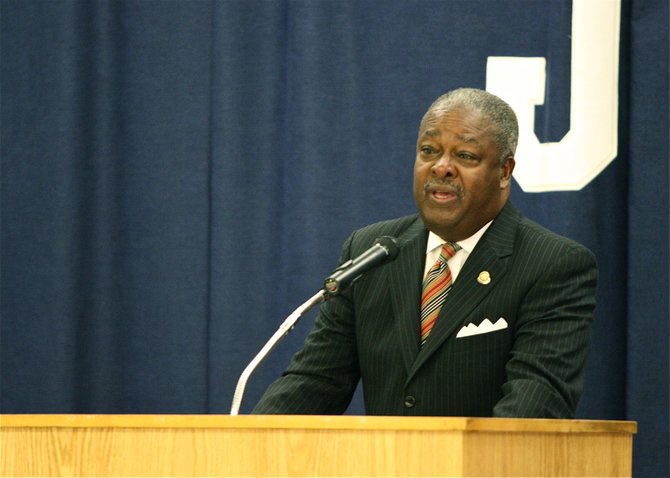 JACKSON — CMPDD Funding Job Training
Central Mississippi Planning and Development District will soon administer $5 million in technical skills training for the unemployed and underemployed.
The U.S. Department of Labor awarded the $5 million Technical Skills Training Grant earlier this year to start the Mississippi Careers of Tomorrow program. The funds came from user fees of employers who took part in the DOL's H-1B non-immigrant visa program.
CMPDD's workforce division, Mississippi Works Local Workforce Area, will administer the funds to employers who hire trainees from the program. The Mississippi Department of Employment Security will determine trainee eligibility and find employers to provide on-the-job training.
Hinds, Holmes, Copiah-Lincoln and Southwest Mississippi community colleges will provide both pre- and post-employment training through MCOT. Organizers have not limited the training to any particular industry. The job training will cover multiple fields in information technology, advanced manufacturing and engineering occupations.
Only private, for-profit employers in the designated fields can take part in the program. The Greater Jackson Partnership and the Southcentral Mississippi Works Local Workforce Area have created a handbook that details all eligibility requirements for employers and trainees. Employers interested in participating should call the Greater Jackson Partnership at 601-948-7575 or the Greater Jackson Alliance at 601-948-3111. Those interested in becoming a trainee should contact Terry Hodges, CMPDD H1-B project manager, at 601-321-5443.
Jobs for Jacksonians Wednesday
Mayor Harvey Johnson Jr. and the city are hosting the Second Annual Jobs for Jacksonians Job Fair and Business Engagement Summit at the Jackson Medical Mall Wednesday.
More than 95 vendors will be on hand to discuss employment opportunities. In addition, participants can sign up with the city's Jobs for Jacksonians Coordinator for future job opportunities.
Local universities and colleges will be at the fair to discuss educational opportunities with participants. Service providers and business professionals will train Jacksonians in successful interviewing and resume writing and conduct mock interviews for training.
Invited high school students will participate in the United Way of the Capital Area's Business Engagement Summit portion of the fair from 9 a.m. to 1 p.m. During the summit, students will learn about proper business attire, resume writing and business etiquette.
The job fair will take place from 9 a.m. to 3 p.m. Additional parking will be available at the Old Farmers Market on West Street and the Old Pepsi Building located on Medgar Evers Boulevard. The city will mark the parking lots with signs and shuttle buses will transport passengers to and from the Jackson Medical Mall.
UNACARE Opens in New Home
The UNACARE Health Center celebrated its new location at 258 E. Fortification St. Monday.
The University of Mississippi Medical Center School of Nursing-run clinic originally opened on West Street in 1998. The University Nursing Associates-Community Access to Health Resources and Education (UNACARE) Center offers medical care, with a focus on lower-income patients. The clinic accepts any health insurance and charges Medicaid rates to those who do not have health insurance. They refer uninsured residents to the Jackson Medical Mall Thad Cochran Center for financial counseling.
Certified nurse practitioners provide care to Midtown and other residents there in collaboration with family medicine and OB-GYN physicians at UMMC.
The Jackson Housing Authority helped renovate the new location on Fortication Street before UNACARE moved in. The move from the former, out-of-date location to the new state-of-the-art building will help cement the long-standing community health-care provider in the Midtown neighborhood.
Husband-Wife Team Enjoy Success
Jason Moore and Holly Jackson met eight years ago through a mutual friend and found a connection in their love of musician Elliott Smith.
Now the two--who have been married for a year and half--have another common bond: They are both small business owners.
Jackson runs Full Figured Chest, a copywriting agency for the high-end lingerie industry. From website creation help, to blog and lingerie columns, Jackson fulfills the writing needs of boutique owners, lingerie guide authors and lingerie designers from New York to Paris.
Jackson had been freelance writing and had kickstarted Full Figured Chest with the help of lingerie blog The Lingerie Addict. In 2011, she convinced Moore he should quit his job at the local library and work for himself.
"He was making all this gorgeous artwork for (the library) for free. I finally convinced him that he could charge people for this and not be miserable, and work from home. I think he saw that I was making money doing it, and I hadn't gone bankrupt, yet. So he started, and he's done really, really well with it," Jackson said.
Moore took Jackson's advice and started his company, I Fell Into A Whale, an illustration and web design agency, in 2011. Through the company's website and from the studio in Fondren, Moore provides illustrations for a wide variety of businesses and purposes, including line drawings, spot drawings, logos, backgrounds, portraits, web graphics and book illustrations.
The company has illustrated designs for companies including State Street Barbeque, Broad Street Bakery and Dollars and Sense Creative Consulting. I Fell Into A Whale also provides web design.
Interested customers can contact Moore and Jackson through their respective websites: Ifellintoawhale.com and thefullfiguredchest.com.
More like this story