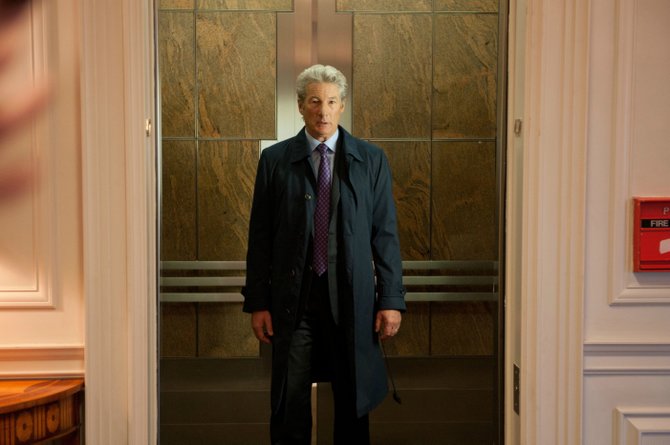 "Arbitrage" opens on a large jet surfing the clouds. Robert Miller (Richard Gere) owns the jet, the people in it and half of Manhattan. He lives high, operating under a credo that money can fix anything. He lies, cheats, deceives and breaks all sorts of laws to hoard mountains of money.
Robert loves wealth more than his family. He is a rotten socio-money-path. He's also on the brink of financial ruin if he doesn't sell his business before the audit turns up fraud.
You may wonder why anyone would invest time, money and energy in making a film about such a loathsome character.
Is it because financial crooks like Robert ignited a global economic downturn? Is it because Robert represents the epidemic insidious greed that threatens to eat us all? Or is it the relentless fascination some folks have with the super rich (the type of curiosity that sells Vanity Fair and other uppity rags)?
I don't know the answer. What I found intriguing was that at some point in this melodramatic family financial thriller, the Machiavellian oligarchy yanks us into his self-created nightmare. This is a testament to the narrative power of the film, written and directed by Nicholas Jarecki.
The jet that opens the film makes a perfect a landing bringing Robert back down to Earth. He breezes off the plane and into his waiting sedan. He arrives in good spirits for his 60th birthday party. It's an intimate gathering that includes his wide-eyed and wonderful wife, Ellen (Susan Sarandon), two grown children who work for the company, their spouses and the grandchildren.
After Robert gives a sentimental speech about family, he rushes off to spend time with Julie (Laetitia Casta), his plump-lipped French mistress, who lives in an apartment Robert's company leases and works in an art gallery that his company finances.
It's a complicated arrangement, but Robert's that kind of guy. He's made "arbitrage" his lifestyle.
For those who are as hedge-fund ignorant as I am, here's the investopedia.com definition of arbitrage: It "exists as a result of market inefficiencies; it provides a mechanism to ensure prices do not deviate substantially from fair value for long periods of time," That's the way Robert evaluates relationships and events.
Robert juggles one challenge after another, but then gets involved in his own Chappaquiddick. He takes Julie on an impromptu getaway, falls asleep at the wheel, crashes the car and flips it over. The girl with the enchanting accent dies with her eyes wide open. Robert kicks his way out of the car. As he turns to look back, the car bursts into flames. This moves him into action. He flees the scene and calls a young black man named Jimmy (Nate Parker) to pick him up.
Detective Michael Bryer (Tim Roth) finds the thread of deception that leads him to Robert and Jimmy and their connections and conspiracies and so on. The movie, which starts off sluggishly, picks up the pace when Detective Bryer gets on the case.
Bryer's not a shining white knight of serve-and-protect virtue; he bends rules, calls in favors and curses out judges. He is part of a bureaucratic system, but it's not a system that binds the Millers. Jarecki tells us that money has no rules.
I won't spoil the dramatic jerks in the story, but the acting holds together. Gere's charisma and low-key style make his character work better than one would expect. I'm not sure where the time goes, but 30-plus years ago, Gere hit the jackpot in "American Gigolo." He still has "it" going on for him on the screen. The scene-stealer, however, is the wife, Ellen. Sarandon provides the light in a morality play without any sense of right and wrong.
More like this story