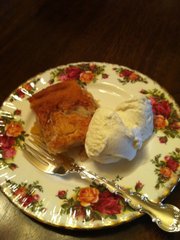 Summer—and its bountiful peach season—is just about gone. What better way to celebrate these past several months then to have a final peach treat to officially send summer off with gratitude and happy memories? This recipe is from my childhood and has a lot of happy memories for me.
My early childhood was spent in Georgia so peaches were a staple from late spring through September—just as they are in Mississippi. I lived in an idyllic little town whose claims to fame are being the birthplace of Doc Holiday and of the abundant countryside filled with peach orchards surrounding it. A memorable afternoon, in those summer months, would consist of driving out to an orchard, filling a paper bag with peaches and bringing them home. I loved to help my mother use them to make decadent sauces, jams and desserts. Mom's peach cobbler is and always will be my favorite cobbler, hands down. A creamy scoop of vanilla ice cream is the perfect accompaniment. I'm sure Doc would have approved.
Mom's Peach Cobbler
Ingredients:
¾ cup all-purpose flour
2 teaspoons baking powder
¾ cup milk
Dash salt
1 teaspoon vanilla extract
6 tablespoons butter
2-3 cups peaches
1 cup sugar (can cut down if peaches are especially sweet)
Cinnamon and/or nutmeg to taste
Melt butter in a 2-quart dish. Combine peaches and 1/4 to 1/2 cup of the sugar and toss with butter. Combine first five ingredients (flour through vanilla), plus the remaining sugar and spoon on top of peach mixture. Bake at 350 degrees for one hour.
More like this story