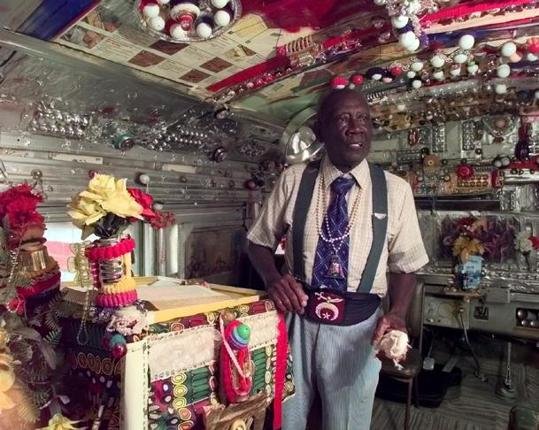 At Margaret's Grocery and Bible Class, a sign in front of the store declared "All is Welcome, Jews and Gentiles."
The Rev. Herman D. "Preacher" Dennis, one of forces behind the eclectic maze of white, red and yellow cinder block towers, hand-painted signs and other folk art, died Tuesday.
Dennis was born in Rolling Fork in 1916 or 1918, depending on who and when you ask. When he was 18 or so, he joined the Army and became an ordained minister during his military service.
For more than three decades, people traveled from all over the world to meet Dennis and his wife, Margaret, for whom he built the tiny world off the legendary blue highway, U.S. 61, just north of Vicksburg.
By 2010, Margaret's Grocery store, which resembled something out of the board-game Candy Land, had fallen into disrepair, and Dennis went to live in a nursing home.
Vicksburg artist H.C. Porter says the widely told story of Margaret's Grocery--which probably includes a bit of folklore--is that after Margaret's first husband died from a gunshot wound during a store robbery, H.D. Dennis came to the store to see her after hearing about her situation. The next week, he returned and told her, "If you marry me, I'll turn your store into a world-renowned spot."
Dennis' funeral is scheduled for 11 a.m. Monday, Sept. 10, at Cool Springs Missionary Baptist Church, the Vicksburg Post reported.
More like this story