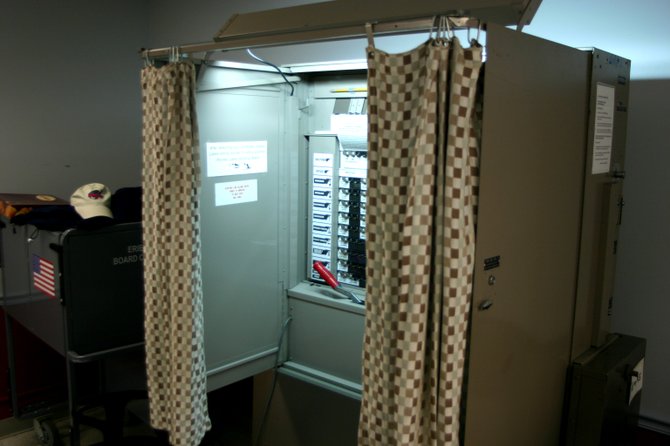 Three judges, the U.S. Department of Justice and a federal court struck down voter laws in Florida, Texas, South Carolina and Ohio in the last month. Conservatives say laws such as requiring citizens to show government-issued photo identification at the polls prevents voter fraud. Since 2001, 46 states have introduced nearly 1,000 voter-ID laws, the overwhelming majority introduced by Republicans. Twenty-one states passed major legislation from 2003 and 2011.
Opponents are quick to point out that the miniscule numbers of actual voter fraud don't justify the additional costs of such laws, that they disenfranchise voters and skew heavily to affecting minorities, the elderly and the disabled. Civil rights organizations such as the ACLU say that such laws are an unconstitutional method of suppressing votes. Many southern states must get pre-clearance from the U.S. Department of Justice before implementing any changes to voting laws due to the states' histories of suppressing votes among African Americans.
Florida passed laws last year to limit third-party voter registration drives, such as those by the League of Women Voters and the NAACP, by forcing registrars to turn in all registrations within 48 hours. In May, U.S. District Judge Robert Hinkle halted implementation of that law, writing in his decision that "the statute and rule impose burdensome record-keeping and reporting requirements that serve little if any purpose, thus rendering them unconstitutional even to the extent they do not violate the (National Voter Registration Act). On Aug. 28, Hinkle made the hold permanent.
In Texas, the DOJ denied preclearance of its voter ID law in March, saying the state did not prove that the bill would not have a discriminatory effect on minority voters. Texas took the case to the federal courts, and on Aug. 30, a federal district court in Washington, D.C., also denied the preclearance. In its decision, the court wrote: "The State of Texas enacted a voter ID law that--at least to our knowledge--is the most stringent in the country. That law will almost certainly have retrogressive effects: it imposes strict, unforgiving burdens on the poor, and racial minorities in Texas are disproportionately likely 
to live in poverty."
On Aug. 31, the DOJ declined to preclear South Carolina's voter ID law. "South Carolina's new voter ID law will be on hold until the state can provide more information to the federal Department of Justice, which says it needs more specifics to ensure that the new law doesn't disenfranchise voters," the Greenville News reported. "... In a letter to the attorney general, the voting rights chief asked questions including how many registered voters don't have a state driver's license or ID and how they will be notified of the new law's requirements, what types of evidence will be accepted to prove a voter's identity and how those who can't reasonably secure an ID will still be allowed to vote."
One of the authors of South Carolina's law, Republican state Sen. George E. "Chip" Campsen III, admitted that none of the isolated examples of possible voter fraud that he could identify would have been prevented by requiring a photo identification to vote in-person.
On Aug. 15, Pennsylvania Commonwealth Court Judge Robert E. Simpson Jr. ruled that state's voter ID law was constitutional and could move forward. Opponents of the law have appealed the decision, and the state Supreme Court scheduled a hearing for Sept. 13.
Finally, Aug. 31, U.S. District Judge Peter C. Economus ordered Ohio to restore early voting, saying that the state did not offer a convincing argument as to why it was changing its rules just before a presidential election, The Washington Post reported. Earlier in the week, U.S. District Judge Algenon L. Marbley ruled that the state must count improperly cast ballots if an election worker caused the mistake instead of the voter.
"Recent experience proves that our elections are decided, all too often, by improbably slim margins--not just in local races ... but even for the highest national offices," Marbley wrote in his decision. "Any potential threat to the integrity of the franchise, no matter how small, must therefore be treated with the 
utmost seriousness."
The DOJ decision on Mississippi's voter ID law is expected sometime in October, too late to put into place for the November elections.
More stories by this author
Like independent media outlets around the world, the Jackson Free Press works hard to produce important content on a limited budget. We'd love your help! Become a JFP VIP member today and/or donate to our journalism fund. Thanks for considering a JFP VIP membership or one-time support.