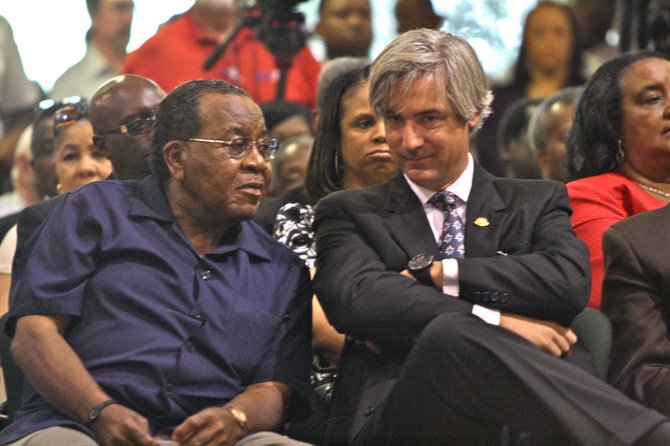 The Jackson City Council voted 4-2 in favor of redistricting option 1 at its regular meeting Tuesday morning, which will fracture Ward 1's foothold east of Interstate 55.
Ward 3 Councilwoman LaRita Cooper-Stokes and Ward 1 Councilman Quentin Whitwell voted against the option. Ward 2 Councilman Chokwe Lumumba was absent.
Whitwell knew the council would approve the option going into the meeting, but he was not happy about it.
"I was informed this morning by some of (my) closest allies on this council that I'm basically going to get steamrolled today," Whitwell said during the meeting. "I know when a train's coming, and I know to get out of the way."
Whitwell was upset about option 1's removal of the Lefleur East neighborhood from Ward 1. The neighborhood, bordered by Meadowbrook Road and Lakeland Drive to the north and south, and Interstate 55 and Ridgewood Road to the west and east, will move to Ward 7.
He said the district change will move his in-laws out of his ward.
"To add insult to injury, has anyone on this council had a plan that cut out their own family members? I beg to say they don't, except for me," Whitwell said. "This is the type of thing that I am insulted by, and I'm very disappointed."
The U.S. Department of Justice must approve the new map before the city can implement it. One DOJ criteria for redistricting is maintaining cohesiveness among established neighborhoods, when possible. Whitwell said he has received many letters about keeping the Belhaven, Fondren and Midtown neighborhoods together. "Yet, Lefleur East is going to be the one that is least respected of all neighborhoods," Whitwell said.
Of the four options, Whitwell supported option 2, which would have kept Lefleur East in Ward 1 and moved the section of Ward 1 between Interstate 55 and State Street on the east and west, and Meadowbrook Road and Northside Drive to the south and north, to Ward 7.
Cooper-Stokes made the first motion—to approve option 3, which she designed. None of her fellow council members seconded the motion, quickly killing the plan.
Cooper-Stokes made it clear that the goal of her plan was to put more African Americans in Ward 7 and get another black representative on the council in place of Councilwoman Margaret Barrett-Simon.
"Plan No. 3 seeks to address the white flight from the city of Jackson and the overwhelming African American population," Cooper-Stokes said. "What plan 3 did was to actually merge the northeast Jackson precincts (Wards 1 and 7) into one ward, which would have allowed the possibility, the greatest possibility of electing a sixth African American to serve on this body."
Cooper-Stokes said the DOJ will agree that option 3 was the most viable plan, due to the city's racial makeup.
All the options created a majority-black voting population in Ward 7. The approved plan, option 1, set the 18-and-older population of Ward 7 at 51.35 percent black and 45.94 percent white. Cooper-Stokes' option would have made the ward's voting population 69.57 percent black and 28.6 percent white.
Contact Jacob D. Fuller at jacob@jacksonfreepress.com.