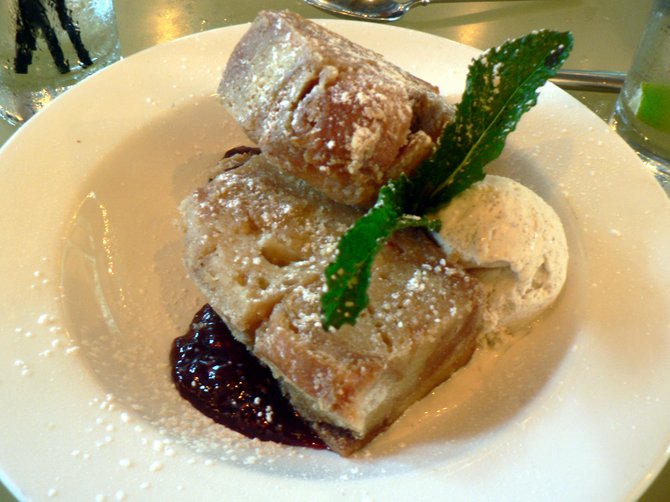 I first ate white chocolate bread pudding at the Palace Cafe in New Orleans in 1991. I fell in love with the idea and immediately drove home and developed my version. We've been serving it in the restaurants ever since. It's our best-selling dessert, but it's also a dish easily served in a banquet setting.
Almost everyone goes back for seconds on white chocolate bread pudding. I once served 1,200 portions at an event for Emeril Lagasse when there were only 900 people in attendance.
In the end, people hope to be remembered for something substantial in their life. Maybe they accomplished an amazing feat, made a major advancement in the field of science, or showed overwhelming compassion and charity to help those in need.
At the end of the day, I would like my tombstone to read, "He was a great dad, a loving husband, and a good friend who helped feed the needy." Though at this rate, it will likely read, "Pass the white chocolate bread pudding, please."
Raspberry White Chocolate Bread Pudding
5 ounces white chocolate
4 egg yolks
1 egg
3/4 cup sugar
2 tsp vanilla extract
1 1/2 cups heavy whipping cream
1/2 cup milk
1/4 teaspoon salt
1 large loaf of sourdough bread (crusts cut off and cut into 1-inch cubes, approx. 5 cups)
2 cups fresh raspberries, (if frozen, they must be thawed, reserve juice)
Preheat oven to 350 degrees. Melt white chocolate in a double boiler.
In another double boiler over moderate heat, combine eggs, sugar, vanilla, whipping cream, milk, and salt. Stir the cream mixture often to prevent eggs from scrambling. When the cream mixture is warm, add melted chocolate and stir well.
Fold bread cubes into custard mixture. Let it sit for 5 minutes and then mix on low speed in an electric mixer using the paddle attachment. Remove the paddle attachment, and using a rubber spatula, gently fold the raspberries into the pudding mixture.
Pour into a buttered 2.2-quart Pyrex baking dish and cover with parchment paper. Place the baking dish in a large roasting pan, and fill the pan with 2 inches of hot water. Bake for 45 minutes. Remove paper and cook an additional 15 minutes to brown the top.
Raspberry White Chocolate Bread Pudding can be held in the refrigerator for 2 or 3 days. When cooled completely, scoop out individual portions and heat to just warm in a microwave. Top with the warmed sauce.
Makes 8—12 servings.
Raspberry White Chocolate Sauce
8 ounces white chocolate
1/4 cup heavy whipping cream, warmed
2 tbl raspberry juice (pureed if fresh, drained if frozen)
2 tbl Framboise Liquor
Melt white chocolate in a double boiler. Add heavy cream, raspberry juice and Framboise and blend thoroughly. This sauce will hold in the refrigerator and can be reheated in the microwave until just warm.
Makes 8—12 servings.