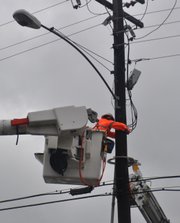 Hurricanes Katrina and Rita—which occurred, respectively, in August and September 2005—cost Entergy $1.5 billion to rebuild electric distribution, transmission and generation, and gas infrastructure.
The damage in the Crescent City was so severe that one of the company's subsidiaries, Entergy New Orleans, lost $320 million in revenues and had to file for bankruptcy.
The intervening years have been relatively quiet. On Aug. 29, the post-Katrina and Rita rebuilding efforts got their first real test when Hurricane Isaac made landfall in southeastern Louisiana.
"Isaac has certainly been a storm unlike any we've seen before. ... It's definitely leaving its mark as it moves through our service area," Entergy Mississippi's President and Chief Executive Officer Haley Fisackerly said in a news release Friday.
Because reports of damage came in over a 45-county swath that the utility serves, Entergy estimated that the restoration could take a long time. Even after Isaac diminished to tropical-storm strength, the 30 mile-an-hour winds combined with snail's pace with which Isaac crept northward posed a challenge to work crews from Entergy as well as city of Jackson public-works crews.
In some cases, workers had to halt work in the middle of trying to restore power to wait for the wind to die back down.
At the height of Isaac's assault, Entergy said approximately 63,000 of its Mississippi customers lacked power.
The company brought in crews from surrounding states to build a 12,000-person workforce of Entergy crews, electrical contractors and mutual-assistance workers from utilities in 24 states. The workers put in 16 hours per day to restore power to all its customers.
Joey Lee, a Mississippi Entergy spokesman, said the company had not calculated damages but said the storm knocked out eight substations and knocked down 13 high-voltage transmission lines, mostly in southwest Mississippi.
Lee said last year's drought killed trees that made it easier for their limbs to break or become uprooted, making Isaac a unique weather system to recover from.
"It just dumped so much water on us," Lee said. By Tuesday, Entergy had restored service to almost all of its customers who lost power.
Contact R.L. Nave at rlnave@jacksonfreepress.com.
More like this story