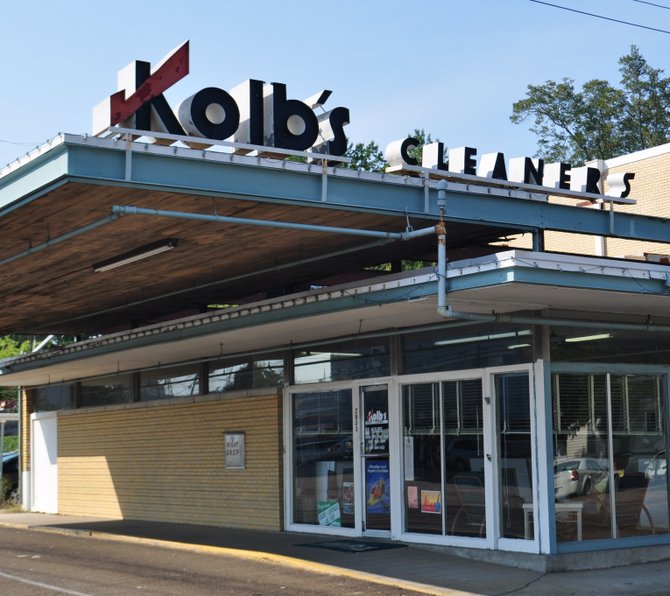 My mother is a smart lady. Sure, she teaches calculus (a subject that confounded me), but she's also smart in other ways. For instance, she taught me important things about being a lady, like to always have a pair of red shoes. Most importantly, she instilled in me a confidence in developing my personal style.
One of the things that I always remember about our shopping outings is her matter-of-fact consideration of an item's maintenance. Anything with a "dry clean only" label required special consideration. Unless it was a special outfit, she'd usually put it back.
Once I grew up and left the nest, I can't say that particular lesson is one that informed my own choices in what clothes to buy, but the idea of taking care of my clothes did stick. And so I thought of my mother the other week as I made several trips to local businesses that help me do just that.
I love high heels and wear them all the time, even as I walk around downtown every day, where the cracked sidewalks and pavement can wreak havoc on stilettos.
When I start to hear that distinct metal "click" on a hard floor, I know I've walked through the caps and it's time to visit Metro Shoe Repair (113 W. Capitol St., 601-969-2996). I consider them miracle workers—insert "save your sole" pun. Best of all, manager David Green lets me stand there barefoot and wait while he recaps the heels. At any other shoe shop, I would get funny looks from the proprietors and be told I'd have to leave the shoes with them for days. I can't really imagine being without my favorite pairs for that long, and I remain grateful that David understands.
Now that it's fall, it's time to break out the boots, which means time to condition my favorite suede and leather pairs. Keeping your boots clean, waterproofed and conditioned lengthens their life and makes them look new again. Most shoe shops carry sprays that accomplish this with minimal effort.
Next up, I had a new fall dress that needed some attention. This one needed a professional: It arrived from the store with an unfinished hem so it could be altered to a custom length. I headed to Custom Tailoring by Al (1000 Highland Colony Parkway, 601-607-3443). I put on the dress, stood in front of the mirror, and Al Guevara immediately folded the hem up to a perfect length, marked it, and I was on my way. A few days later, it looked great. It's good to know a skilled tailor; fit really is everything, and when you purchase off-the-rack, having things tailored to fit your body makes a big difference.
Finally, I needed to circle back to that process that kept me away from certain clothes as a teen: dry cleaning. Despite my mother's reticence to buy dry-clean items in my youth, I now own more than a few. I like that the Kolb's in Fondren, housed in a classic old building, feels so friendly and personable and knows me by name. (Kolb's Grand Cleaners, 2933 N. State St., 601-366-1453, plus multiple locations in the metro area). I also like that the service is quick, they offer delivery, and through my years in Jackson they managed to remove stains that I thought were hopeless, all while never once ruining anything.
Speaking of not ruining things, if you've keep up with fashion, you'll know that leather is back big time for fall, much to my delight. Caring for it properly is key, though. Both Metro Shoe Repair and Kolb's specialize in leather cleaning, but here's an additional tip I learned the hard way: if you have a leather dress or top, don't wear deodorant when you don it. It's cooler weather, so hopefully that mitigates any concerns of sweatiness. Or maybe you can try out the much-touted Botox-in-the-armpits-to-prevent-sweating thing. The reason to go deodorant-free is that when it inevitably rubs off on your garment, the cleaner uses a chemical to remove it that is harsh on the leather and will wear it down prematurely.
Clothes and shoes are an investment, and to look your best, they need the proper care. I'm glad to have found folks in town who can help me make sure that mine last … and I think they'd be mom-approved.
More like this story
More stories by this author