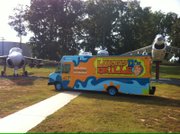 A new eatery is gassed up and ready to go in Jackson—literally. Lauren Davis' food truck LurnyD's Grille, the first of its kind in Jackson, will be ready to hit the streets early next week.
The food truck will cater private lunches, parties and events starting Oct. 8 after getting certified by the Health Department. Over the coming weeks, Davis will work out zoning and other paperwork with the city, which will all likely be resolved by month's end. Then, Davis plans to hold regular hours at spots downtown and in Fondren.
"The way the ordinance is written in Jackson, you can have up to three (designated public spots to park the truck)," Davis says. "So I've selected four spots and it all comes down to traffic and zoning where they can set you up. The way this ordinance was written, you've got to be full-on with the vehicle, Health Department-certified and all that before you can get going, so you're either all in or you're not, and I went all in."
Though his opening menu focuses on gourmet burgers, Davis says the "grille" part in the name LurnyD's Grille is intentional, to allow Davis the freedom to expand the menu in the future. "I came up with the concept of the grille because I don't have to be a specialized food truck," Davis says. "In a lot of large cities, you've got to be the taco truck, the soup truck, the empanada truck. Here, it was pretty much wide open."
Jackson offers some limitations on a food-truck culture like the ones springing up in big cities nationwide, most notably the lack of a sophisticated public transportation system, but Davis says he hopes to see others join him in opening food trucks in the city.
"It's really just the most affordable way to get into the industry," Davis says. "This is the hot trend across America right now, to have a food truck, to have a food truck park. I want more food trucks around, I don't want to be the only one. I want there to be six, seven, eight, nine food trucks. I want us to fill up Smith-Wills (Stadium) and have food-truck wars."
To view the menu and stay up-to-date on opening information, visit lurnydsgrille.com
More like this story
More stories by this author