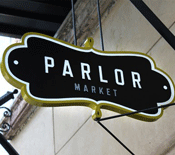 Monday was Jesse Houston's last night as chef de cuisine at Parlor Market (115 W. Capitol St., 601-360-0090). His final dinner was an event with guest chef Edward Lee of the Louisville, Ky.-based restaurant 610 Magnolia.
Matthew Kajdan, formerly of Broad Street Baking Company, confirmed he will be taking over as chef, but said he could not share any further details until after a new menu has been planned, which will occur in the next two weeks.
As for Houston, he plans to keep cooking in the capital city. "I love Jackson," he said. "It's a great community, and I've got a lot of loyal supporters. I'm not really sure where I'll end up (as far as restaurants). I'd love to start looking for investors to open up my own place. There are a lot of great things happening in Jackson that I'd love to be attached to."
Houston said he'd also like to continue the pop-up restaurants he became known for. "I'd love to do a few more pop-ups for fun, under my own name with other restaurants, like we did with Sal & Mookies, you know, get some support for local businesses," he said.
More like this story
More stories by this author