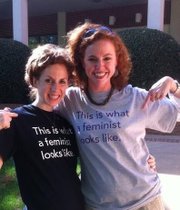 Sisters are doing it for themselves--and each other--at Millsaps College. Although still a relatively new group on campus, the Millsaps Feminists are making waves and sparking conversation.
Three women--Emma Spies, Brittany Aucoin and Kate Sundell--formed the group in early 2011. "We had all actually separately approached a professor who does a lot of course work involving feminism and women's history about being the faculty sponsor for a group that had something to do with feminism and women's rights. So she kind of connected the three of us to each other," Spies says.
In the first year, the group was mainly focused on getting organized, gaining a membership and figuring out what people were interested in being involved in.
"We were all interested in feminism in an academic sense, feminist theory and the history of feminism ... and then we saw a necessity in a political sense, the presence of feminism. We got really involved in the No on 26 campaign, that was one of the first things we did," Spies says. "We figured out pretty quickly what kinds of things people were interested in, and this year we've really been able to focus our activities and we've had a lot more people participate because of that."
Although Aucoin and Sundell have since graduated, Spies, a senior, has grown the group to include more than 20 regular members and helped host several events, including a successful Friday Forum at Millsaps on transgender issues, a topic the group continues to focus on this school year. Spies says the group provides women (and men) who perhaps aren't involved with more traditional on-campus organizations, such as in the Greek system, a community to connect with. The Feminists usually meet once a week, typically on Fridays, and host special events, such as movie and discussion nights.
Tonight, the Millsaps Feminists, along with several other on-campus organizations, is hosting a viewing and discussion of the film, "Half the Sky." What began as a book by journalists Nicholas Kristof and Sheryl WuDunn about women's rights globally turned into an international movement confronting the oppression of women. "Half the Sky" is now a movement encompassing the book, film, a website and a non-profit organization.
"We try to keep a lot of our focus on local issues, but I think it's really important to keep in mind that the feminist movement is global--especially now--in a way that it wasn't 50 and 60 years ago because of advances in technology," Spies says. "It's more than just a film, and I think that was what our motivation was for choosing it. It really is a movement that has a great reach. The website, halftheskymovement.org, sort of talks about how the film is just one component. And we've just had a great success with every movie we've shown, and the discussions that we've had after showing films have been really illuminating and interesting and have introduced a lot of different points of view."
The film "Half the Sky" screens at Millsaps College (1701 N. State St.) at 7:45 p.m. in the Academic Complex, room 215.
More like this story
More stories by this author