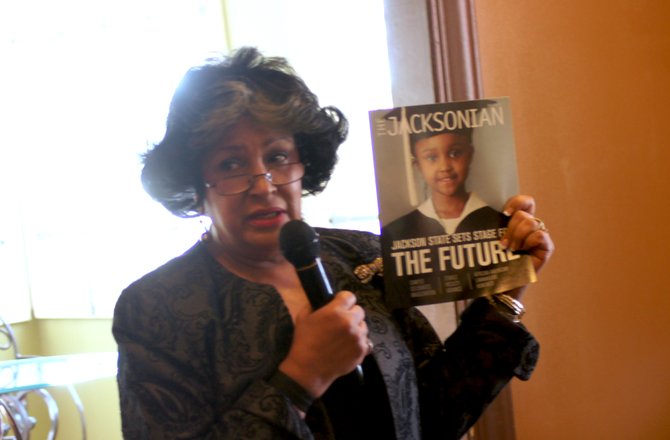 It's a different world from the one in which Dr. Carolyn Meyers studied alloys as a graduate engineering student at Georgia Tech. Today, engineering research focuses on developing nonferrous building material of the future, Meyers said.
As much as the world has changed, so has Jackson State University just in the past 22 months under Meyers' leadership as the college's president. Designated as Mississippi's urban university, Jackson State has undergone rapid growth and, according to Meyers, is poised for more in the coming months.
For example, Meyers hopes that the building it purchased with the help of a legislative appropriation at 101 W. Capitol St. in downtown Jackson can begin holding classes next summer. JSU is working on the interior of the large glass and steel building that Meyers said would also house a government institute and perhaps even host arts events on warm days, Meyers said.
"I want us to be a presence downtown," she added.
This morning, speaking at Koinonia Coffee House's Friday Forum, Myers introduced two new members of her leadership team. Eric Stringfellow, a Tougaloo College journalism professor, joins as the school's communications director, while former Jackson Redevelopment Authority Director Jason Brookins becomes the director of the Center for University Based Development.
Meyers said the men will be integral to helping Jackson State tell its story. Some of the highlights of that story include the implementation of an iPad program in which all incoming freshmen receive the Apple tablets, as well as the Call Me Mister initiative that encourages young black men to become teachers.
In a way, JSU is undergoing a brand modification, starting with the unveiling of a new logo tomorrow, Nov. 10, focusing on Science, Technology, Engineering and Math programs, and expanding course offerings during the evening and on weekends to accommodate the fast-growing population of non-traditional students who are 25 to 35 years of age.
Meyers also encouraged members of the community to give her office feedback on how it can engage better with Jackson residents. JSU is Mississippi's urban institution and the school plans to live up to the designation, Meyers said.
"This our university. Own it," she said.
More like this story
More stories by this author