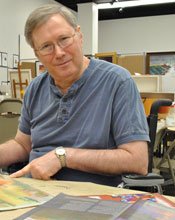 On a return trip home to Jackson during Michael "Mike" Duke's first summer as a University of Alabama student, he was involved in a car accident that would change his life forever.
"It was back in '76," Duke says. "June 22, to be precise."
The accident left him with a severe brain injury and in a coma for nine weeks. After regaining consciousness, he found that he had to learn to read, write, talk and paint all over again. "I was reborn," Duke says. "I was given two chances at life, when most people only get one."
Duke, 57, has had a passion for art since the age of 6. By age 11 he was working with oil paints and, by age 13, was entering art competitions. In high school, Duke's interest in the arts intensified after he submitted a proposal to decorate the Governor's Inaugural Ball and his designs were selected. Duke went on to attend Hinds Junior College (now Hinds Community College), majoring in art, before attending the University of Alabama where he studied fine arts.
After the accident, Duke was less involved in creating art until, in 2005, the artist discovered VSA (formerly Very Special Arts) Mississippi for adults with disabilities. It was here, through working with the group and with teacher and artist-in-residence Tom Harmon, that Duke steadily regained confidence in visualizing and creating his paintings after more than 25 years.
Through VSA Mississippi, Duke attends weekly two-hour sessions in the VSA studio. Artists work with watercolors, acrylic and oil paints, clay, drawing, collage and printmaking. "Art has always been my passion, but after my car accident ... I thought I would never paint again," Duke says.
Although he vividly remembers insecurities about his abilities when joining VSA, Duke recently sold two of his latest paintings at a local VSA-sponsored event at the Municipal Art Gallery in early May.
When it comes to the feeling he gets from completing his latest project or selling another piece of his artwork, Duke says, "It's kind of like a miracle on canvas to me."
Duke maintains a joyful and bright-spirited attitude toward life. He smiles a lot and quietly cracks jokes––even offering the message for "the ladies" that he is "good looking, single and shopping."
VSA Mississippi is a statewide nonprofit organization that promotes and provides arts opportunities for people with disabilities and is affiliated with the John F. Kennedy Center for the Performing Arts. VSA Mississippi has been offering arts programs for children, youth and adults since 1978.
VSA offices are located at the Mississippi Art Center, 201 E. Pascagoula St. For more information, visit the VSA Mississippi Facebook page.
More like this story
More stories by this author