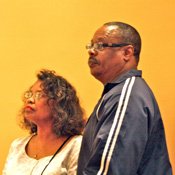 Two Jacksonians have a dangerous problem most city residents rarely come across: snakes. Monday, they went to the City Hall to ask for help with the slithering pests.
Clay Coleman, who lives on Bindura Court near Hawkins Field, said his neighbors and he have killed about a dozen poisonous snakes in their yards near Town Creek in the past month. Coleman said one of the snakes a venomous water moccasin, killed his pet bulldog.
The problem has gotten worse. Coleman said of the 12 snakes killed in the last month, four of them came in the last three days.
"The reason I'm here is the snake problem and the kids that are in our neighborhood," Coleman said. "I lost a $600 bulldog with papers and everything. I would much rather lose a bulldog than lose a kid. The problem has escalated."
Caroline Snow, another Bindura-Court resident, said they have tried Snake-A-Way, a granular product designed to disorient and repel snakes, but with no success. The problem happens on a yearly basis but is worse than usual this year. Snow said that is because the bushes and undergrowth have gotten out of control on the city-owned land bordering their property and Town Creek.
"(The snakes) have too many places to hide," Snow said. "We have 2 feet on the other side of our property that belongs to the city that we can maintain. We do to the point that we can."
Mayor Harvey Johnson Jr. told Coleman and Snow they should call animal control. Snow said Animal Control told her that they respond to calls as they come in. By the time Animal Control gets to Snow's house, the snakes were gone.
Johnson said the city will help cut down the brush and get Animal Control to the neighborhood to try to address the snake situation. He said the city put in stones along the bank and paved culverts near Elraine Boulevard, just southeast of Bindura, on Town Creek in 2006 to help the keep water moving through the area and keep snakes out of residents' yards.
The city has done nothing in the way of stones or pavement on the part of the creek that borders his property, though, Coleman said.
"Elraine is a horse of different color," Coleman said. "You took care of that problem, but that is not solving the problem that we have at this particular time."
Johnson said it's not accurate for Coleman and Snow to come to City Hall and paint a picture that the city doesn't care about their problem.
"We do care what's going on," Johnson said. "We'll try to address the problem."
More like this story