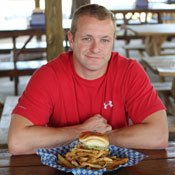 Constructing the perfect burger is a fine art. One must begin with the finest ingredients: patties hand-formed out of fresh, never-frozen beef, delectable seasonings, a light and fluffy bun and a host of world-class toppings. Ingredients in hand, the cooking and building process can begin. Although anyone can make a burger, it takes a well-trained eye to create a good one. Fortunately, Steve Sahler, a Madison native and owner of Burgers & Blues (1060 E. County Line Road, Suite 22, Ridgeland, 601-899-0038), is bringing the metro his vision of the best burger in town. (JFP Best of Jackson voters agreed in the 2011 and 2012 contests.)
When Burgers & Blues opened in April 2010, Sahler originally partnered with Al Stamps of Cool Al's; however, Stamps and Sahler parted ways in 2011. Sahler now operates Burgers & Blues with his wife, Jen, and has since put his mark on what he believes to be Jackson's best burger and blues venue, home to the best patio in town. Recently, the Travel Channel show "Man vs. Food" featured the Burgers & Blues "Whammy Challenge," which involves eating a three 1-pound burgers, a pound of fries and a root beer float in under 30 minutes. The episode aired April 11, the day before the restaurant's two-year anniversary.
What was the first recipe you developed?
I helped developed the whole menu, but because I'm a spicy food eater, my favorite item would be the Sonic Boom Burger with fried jalapenos and pepper jack cheese.
What about dishes other than burgers?
There are just so many. For example, when we came up with the idea for the ranch dip fries, I told my mother-in-law what we were looking for, and she came up with the recipe, and it's very popular. Although I can't take full credit for it, I had a vision of what I wanted, and it was created from my vision.
What was your vision for this restaurant?
I knew that I wanted to entertain folks from two to 92. I wanted to be family friendly because I think a lot of folks miss the opportunity if they call themselves a bar or just a restaurant—then you're limiting your clientele, and that's something I didn't want to do.
I wanted to be able to offer everybody something. After I worked at Buffalo Wild Wings, I knew I wanted that sports theme. When the burger thing came in, it just hit me like a rock—a burger joint with a sports bar theme and live music. That's what I wanted. I found this place and saw this area to put this deck. It came together at the right time.
What do you think sets you apart?
Nobody does what we do. ... For one, I don't know any restaurant that can compete with our patio, even though some JFP (Best of Jackson) voters don't agree with me. I don't think anybody can, as far as burger restaurants, compete with the volume we do or with our burger, hands down.
Is there something special in the meat you use?
Yes, it's the mixture of the meat we use and the seasoning we use; that's what sets us apart. Our patties are not frozen. They're fresh every day, and they're hand-formed. It's just the process that we send each of our burgers through; I don't think other restaurants take the time we take.
Who came up with the Whammy Challenge?
I did. I knew I wanted a challenge burger. I can eat and I knew I wanted something I couldn't eat.
Have you ever finished it?
No, absolutely not.
Have you gotten close?
No, a 1-pound hamburger about does me in.
Did you base this challenge on another one you've seen or tried somewhere?
No, I've never done an eating challenge. I just knew there were not any popular eating challenges in this town. If someone came to Jackson and they were looking for an eating challenge, I wanted them to come to Burgers & Blues.
How did "Man vs. Food" get involved?
They (contacted us). Now, I don't know how many folks reached out to them first, because what I understand, the more emails they get, the more likely they are to come, but they called me one day and told me they were coming down to Jackson, wanted to do a story on us and they asked if that was OK. I said, "absolutely."
Since this is Burgers & Blues, who is your favorite blues artist?
I've got several, but I've got to say my favorite is Jessie Smith. He's our house band. He plays every Tuesday and Wednesday. ... He's very talented on the guitar, so he's definitely my favorite.
Besides Jessie Smith, B.B. King has to be up there somewhere. There are so many famous blues artists but when somebody thinks blues, I just think B.B. King always pops up.
More like this story