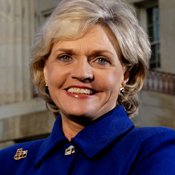 Mississippians are crying foul after North Carolina Gov. Bev Perdue, a Democrat, compared her state, which voted to ban same-sex marriage last week, to Mississippi.
"People around the country are watching us and they're really confused to have been such a progressive, forward-thinking, economically driven state that invested in education and that stood up for the civil rights of people including the civil-rights marches back in the '50s and '60s and '70s. Folks are saying, what in the world is going on in North Carolina? We look like Mississippi," Perdue told a North Carolina TV station after the vote.
Perdue's suggestion that her state's rebuke of gay marriage mirrored Mississippi, where, in 2004, 86 percent of voters agreed to do the same thing, drew fire from Gov. Phil Bryant and Lt. Gov. Tate Reeves.
Bryant called on Perdue to apologize. "To be able to use Mississippi in a disparaging way on a popular vote in her own state is, I think, something that's certainly petty," Bryant said at news conference in Jackson last week, according to an Associated Press report.
Reeves responded to Perdue's comments on gay marriage by pointing out that the conservative Koch Brothers-backed Tax Foundation ranks Mississippi's tax climate higher than North Carolina's.

"Governor Perdue should know that her administration has a lot of work to do to make her state's business climate 'look like Mississippi.' We are creating an environment which encourages the private sector to invest capital in Mississippi, and I would invite any North Carolina-based company wanting to move to a lower-taxed, less-regulated state to look at our business-friendly opportunities," Reeves said in a statement.
According to Mississippi's Constitution: "Marriage may take place and may be valid under the laws of this State only between a man and a woman. A marriage in another State or foreign jurisdiction between persons of the same gender, regardless of when the marriage took place, may not be recognized in this State and is void and unenforceable under the laws of this State."
The section of the Constitution immediately preceding the prohibition of gay marriage "declared a marriage void between a white person and negro or mulatto with one-eighth or more of negro blood." Voters repealed that section in 1987.
More like this story