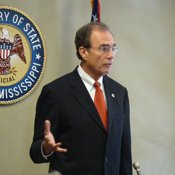 Because of Mississippi's sordid history of trying to stop black people from voting, the U.S. Justice Department has to OK changes to voting laws in the state, including a recently adopted requirement that voters prove their identity before casting ballots on Election Day.
Secretary of State and voter ID booster Delbert Hosemann doesn't think Mississippi can get an impartial review of its voting mandate.
As an example Hosemann held a press conference today to talk about an April 29 posting from blogger J. Christian Adams on conservative political website PJMedia.com. The post reported that the site "has obtained Facebook postings from Department of Justice Voting Section employees demonstrating contempt" for Mississippi and others states that have implemented voter identification requirements at the polls.
According to the site, the alleged DOJ employee posted on the social networking site: "'Mississippi: Disgusting and Shameful.'... forget the magnolia state motto."
The site doesn't give the context surrounding the alleged statement nor does it provide a screenshot of the alleged Facebook page. Hosemann, a Republican who pushed hard for the voter ID ballot initiative during last year's election campaign, told reporters this morning that he talked to the employee, who he identified as Stephanie Celandine Gyamfi. Her LinkedIn profile states that she is a lead analyst for the DOJ and a 14-year employee of the agency.
"I asked if (the comments) were accurate. She told me those comments were taken out of context, and I should consider the source of those particular comments. The source was Christopher Adams, who's a former attorney with the Civil Rights Division of the United States Justice Department," Hosemann said at a press conference at the Capitol this morning that was attended by a throng of Tea Party supporters.
Based on the blog comments and the Justice Department's denial of voter ID laws in South Carolina and Texas, Hosemann isn't sure Mississippi will get a fair hearing.
"This is not my father's father's Mississippi," Hosemann said of the state's past treatment of would-be African American voters. He insisted that the state had made great strides to improve race relations and that he invited Justice Department officials to visit the Magnolia State.
Previous Comments
ID

167688

Comment

Secretary Hosemann and his teasippers consider a hearing fair only if their "Mississippi way of doing things" goes unchallenged. The Secretary is not interested in fairness. He has a vast disregard for the US Constitution when it comes to racial and gender equality; he and his fellow cohorts routinely thumb their noses at the document. He is interested in interposition and racial discrimination; he is interested in claiming the right to segregate and discriminate by race in Mississippi. This quote, whether it was taken out of context or not, has only provided him with a subject to whine on about being mistreated and to create a claim of reverse discrimination. I don't see his opposition being smart enough or skilled enough to counter his slick tactics. They haven't been so far. I do not understand why voter id was not stopped before it got on the ballot. The Democratic Party, the ACLU, and the NAACP (so-called champions of the under-represented), never verified that the signatures delivered to Hosemann's office were of actual voters, alive or dead. It seems that those three groups live to litigate, get paid, and finally to lose.

Author

duBois03

Date

2012-05-08T18:33:28-06:00
ID

167690

Comment

Hosemann and other Republicans in MS have taken this quote out of context. It's also important to note that Ms. Gyamfi will not be reviewing the MS voter ID application. So, it appears that Hosemann is setting up for an eventual DOJ rejection and pleding bias. THis isn't the first time that the GOP would have accused the Holder DOJ of reverse discrimination.

Author

Renaldo Bryant

Date

2012-05-09T09:22:11-06:00
ID

167701

Comment

Apparently Ms. Gyamfi likes to play fast and loose with the truth as she has admitted to perjury. Is this really the type of person we want working in the DOJ?

Author

bill_jackson

Date

2012-05-10T07:31:46-06:00
ID

167702

Comment

Wow, some lefty open criticizes our State, our elected officials stand up for Her, and the commenters here rip Sec. Hosemann. Sadly, I'm not sure if I'm surprised or not.

Author

RobbieR

Date

2012-05-10T08:02:56-06:00
ID

167707

Comment

Robbie R, Hoseman's objections are not founded. Gyamfi was and is not working the DOJ case concerning the MS Voter ID law. Her comment was not even in reference to the voter ID law, she was commenting on the USM band and it's racially charged chants during an NCAA B-Ball Tourney game. I am just wondering why Hoseman is having press conferences objecting to her statements, when they had nothing to do with the DOJ review of the voter ID law?

Author

Renaldo Bryant

Date

2012-05-11T10:37:13-06:00
More like this story