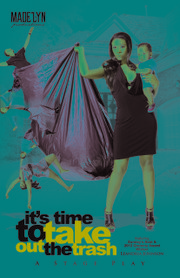 Sometimes, redemption involves clearing out the clutter in your life. "'It's Time to Take Out the Trash' is a play about a woman who is trying to redeem herself," says writer and director Felicia Tillman. "The woman, whose name is Nikki, is trying to find happiness, so she joins a church and begins to pray for guidance. "But the closer she gets to God, the more hardships and difficulties she encounters."
The production, scheduled to premiere at Thalia Mara Hall June 30, is the sequel to Tillman's first show, "U Got to Hurt Before U Heal." In the new play, Nikki has given up her bad-girl ways but she's still struggling with her past.


"Every time she goes through a hardship, it makes her stronger," Tillman says.
The play has a 16-member cast as well as a live band to provide accompaniment for its five songs, including a feature performance by Grammy Award-winner Le'Andria Johnson.
Tillman, the one-woman dynamo behind "It's Time to Take Out the Trash," plans to tour the production next year. "After tax season," says the entrepreneur, who does tax preparation from January to April. Asked how she juggles life with two careers and a family, Tillman responds much like Nikki in her show: "Just got to make it happen."
"It's Time to Take Out the Trash" will play for one night only, Saturday, June 30, at 8 p.m. at Thalia Mara Hall (255 E. Pascagoula St., 601-960-1537). Tickets are $25, available on ticketmaster.com.
More like this story