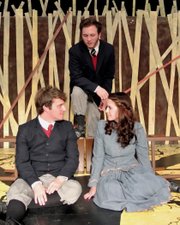 Homosexuality, abortion, rape, child abuse, teen pregnancy and suicide can all initiate a controversial conversation. In yesteryear, however, they were all topics so taboo they were suppressed, ignored and left to fester.
"Spring Awakening," originally a German play written in 1892, faces these issues head-on. It centers on a group of adolescents in 19th century Germany who deal with the turmoils of school, family and, especially, puberty and sexual awakening.
Michael Mayer adapted it to a rock musical of the same name in 2006, and it went to Broadway, where it received 11 Tony Award nominations, and won eight categories including best musical, direction, book, score and featured actor. The plan also won four Drama Desk awards, and the London production won four Oliver Awards.
Now, the musical is making its debut in Mississippi under the direction of Lavonne Bruckner, founder and owner of the Actor's Playhouse. Bruckner studied acting and directing at New York and Yale Universities. She says she started as an actress in church and continued acting through high school.
"I love working with youth. As a director, I like to introduce children to theater," Bruckner says. She has produced and directed musicals like "Annie" and "The Wizard of Oz" at the Actor's Playhouse to train and entertain young people, but says she had always loved more serious acting and wanted to do more critical plays. "In previous years, I'd never thought of doing something cutting edge, but when 'Rent' became available, I thought, 'this will be a test,'" she says.
Nervous about putting on a play as controversial as "Spring Awakening" in Mississippi, Bruckner finds comfort in the fact that she presented the musical "Rent," about young artists and musicians struggling to survive and create in New York under the shadows of HIV/AIDS, to the tri-city area in December of 2008.
Although some people were negative about the content, she had a pretty good turnout. She says she expects some negative feedback from people who don't understand the purpose of the plays, which is to inform young people of preventable situations that plague their generations every day. "Mississippi is daunting just because of the content," she says. She does warn that people should be careful about children seeing the play.
"Spring Awakening" opens June 28 and run through July 1 at the Actor's Playhouse (121 Paul Truitt Lane, Pearl). Tickets are $10 for students and $15 for adults. On-stage seating is available for all showings. For more information, please call 601-664-0930.
Courtesy