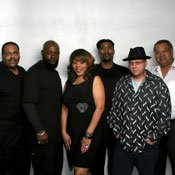 When John Parker started a band in 2004, he had to think of a name. "It was one of those things where I asked myself what I want people to do when I play, and Time to Move Band was what I came up with," he says.
Eight years later, Time to Move Band is still making people in the Jackson area move, dance and sing along to their high-energy sets and soulful arrangements with covers of songs from many music genres.
Time to Move Band's current lineup consists of Parker, 56, who plays bass; drummer Eric Cager, 37; keyboardist Benjamin Bradley, 45; guitarist Martin Ingram, 46; and vocalists Tim Jackson, 38, and "Lady Mary" Henderson, 40.
The band has a repertoire of about 80 to 100 songs, but unlike other groups, Time To Move rarely, if ever, has a set list for a particular show. "We feed off the audience, and we can play anything. We can adapt to any crowd," Bradley says. "You never know where a show can take you."
Parker says some of his musical influences include old-school soul and funk bands like Earth, Wind and Fire; Con Funk Shun; The Temptations; and Parliament; as well as rock acts like the Doobie Brothers. However, he's also open to new artists. "(I had) never heard of Adele until we got some requests for her music, and now I've fallen in love with her," Parker says. The other band members also bring their influences from past musical experiences, ranging from Prince to Jill Scott, making the band even more diverse.
Parker says that the professionalism and skill of the band is an unusual luxury in the music scene, and notes that every member of the band also has a full-time job, yet still makes commitments to the band and to the shows.
The Jackson community is important to the band. Time to Move Band has inspired Jacksonians to hit the dance floor at community events such as the Jackson Zoo Brew, the Blondes vs. Brunettes Alzheimer's Benefit and the Jackson Free Press Chick Ball. "You will get a high-energy, up-tempo show," Parker says. "We are a dance band, and that's what you'll do."
Time to Move Band performs at 8 p.m. June 16 at Hal and Mal's Red Room (200 S. Commerce St., 601-948-0888) and 8 pm. June 23 at Last Call Sports Bar and Grill (1428 Old Canton Road, 601-713-2700). The band is available for private parties and functions for all ages. For more information, visit myspace.com/timetomoveband or find the band on Facebook.
Five Most Requested Songs
"Mustang Sally," by Wilson Pickett
"Let's Get it On," by Marvin Gaye
"Purple Rain," by Prince
"Forget You," by Cee Lo Green
"Superstition," by Stevie Wonder
More like this story