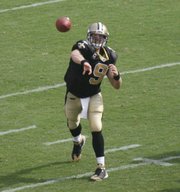 Football is still approximately 90 days away, but it has not stopped the game from dominating the sporting news. Here is my take on a few stories making headlines this offseason.
Alcorn State hired the first white head coach in SWAC history last week, naming Jay Hopson to the position. Hopson played at Ole Miss and coached at Delta State and Southern Mississippi.
Hopson will have to figure out a way to upgrade the school's facilities and get athletic donations up in order to recruit more talent to Alcorn State. In his introductory press conference, he addressed the issue of race: "I don't see black or white; we're all purple and gold."
In more news from the NFL on the New Orleans Saints' bounty-gate, news leaked that the team has a ledger documenting the program.
If that's true, it makes it hard for Jonathan Vilma to deny the bounty program. As defensive captain, Vilma would know about any program even if he didn't contribute money to it. If the ledger is real—even without naming names—it is damning, because it shows that the team had a bounty program in place.
If you haven't read the story of Brian Banks, yet, take some time to Google the name and read his story. Banks could be the feel-good story of the offseason if he makes a NFL training-camp roster.
UCLA has drawn some heat for giving Sean "Diddy" Combs' son, Justin Combs, an athletic scholarship to play football. Critics believe that Diddy should pay for his son's college education.
Athletic scholarships are not paid for by taxpayers' money and schools give them on the basis of performance, not need. Justin Combs is a three-star recruit out of New York, and schools other than UCLA sought him out.
I have no problems with Justin Combs getting an athletic scholarship. I have heard some people wonder if the uproar is based on race, but I am not sure. Michael Jordan's sons have received basketball scholarships, and no one complained. Barry Sanders' son just got a scholarship offer from Stanford.
I could provide additional examples other than those two that didn't cause the same outrage. It seems to me that the uproar could be because California is so strapped for cash.
Is the fuss about race? Is it because Diddy is wealthy, or is the uproar because he is a wealthy black man? I would love to hear thoughts from others who are worldlier than I am.
Follow Bryan Flynn at http://www.jfpsports.com, Facebook and @jfpsports.
More like this story
More stories by this author