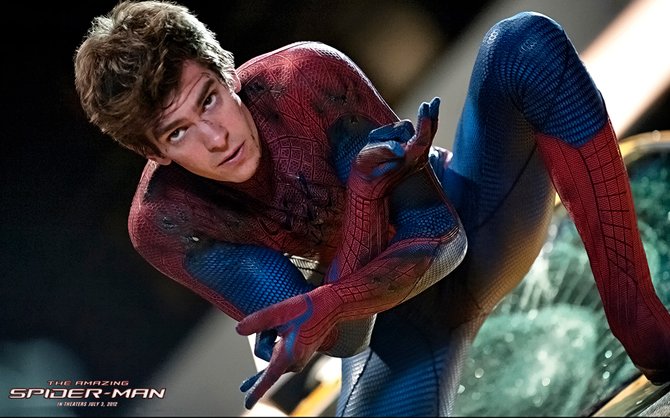 This summer, legendary web-slinger Spider-Man is hitting movie theaters in a star-studded blockbuster. Sound familiar? It hasn't been long since Sam Raimi brought us his version of the comic-book hero in (an increasingly ridiculous) trilogy of films—all three premiered in the last decade. Fans loved the first two films, but "Spider-Man 3" left viewers flat. It seems odd that we'd be revisiting the Spider's origins on the big screen so soon, and yet, here we are: Peter Parker is once again slinging webs and throwing punches in "The Amazing Spider-Man," and this time, he is at his best.
An all-new cast playing familiar characters is a bit jarring and unwelcome at first, but their solid performances are part of what makes this retreading of an old path worth watching. Andrew Garfield brings emotional realism to Peter Parker, and the film does a fantastic job of highlighting his loss—first of his parents, and then the fateful death of his uncle Ben Parker.
Raimi's "Spider-Man" basically played out as, "My uncle is dead, so I am heroic now." But the reboot, directed by Marc Webb, handles the transformation in a much more realistic light. Peter Parker doesn't become Spider-Man right away, but when he does, he's fantastic. Tobey McGuire never brought humor and lightheartedness to the wall-crawler. His cocky attitude and not only bravery in the face of, but readiness to openly mock, death are defining characteristics of Garfield's Spider-Man. Not to say he's a court jester, but this Spider-Man seems to know he's strong, and he has fun with it.
The new story sticks more closely to the comic book origins of Spider-Man. For example, he doesn't make his own webs biologically, and Gwen Stacy (Emma Stone) is his girlfriend right from the get-go. But new facets add complexity to the tale. In a twist more typically reserved for Batman's canon, Spider-Man has conflicts with the NYPD repeatedly in this film and, for once, the cops have a decent justification for not trusting the super-hero (though I don't want to spoil why).
Equally as well done is the villain relationship. Dr. Connors (Rhys Ifans) and Pete's relationship echoes the one between Norman Osborne and Peter in the earlier films, but is more intimate because Peter's parents are involved with Connors' past. When Connors' alter ego The Lizard finally appears, he emerges as an intimidating creature that will probably creep out plenty of viewers. The filmmakers portray The Lizard faithfully, and in a way that makes this lesser-known member of the Spider's rogues gallery shine.
In general, the character relationships are truly beautiful in "Amazing Spider-Man." Peter and Gwen have a genuine love, less forced and contrived as the relationship of the old Peter Parker and Mary Jane Watson. There are still some awkward love scenes, but they never drag on, and some are quite entertaining. Aunt May (Sally Field) is no longer oblivious or useless as a character; she's fully taken on the role of Peter's mother. Uncle Ben (Martin Sheen), too, is a real father figure to Peter, who even calls him "dad" at one point.
Gwen's father (Denis Leary) is a wonderful character who comes off as harsh, but human. Some of the best moments in the film take place between him and Peter, in and out of the spider suit.
The humanity of these relationships speak to what made Spider-Man so popular to begin with—we all feel like we could be Spider-Man, like we want to be Spider-Man, because he's not so different from us.
Still, it's not a perfect film. Glaringly absent from this version are two characters that made the older films great. J. Jonah Jameson, editor-in-chief of The Daily Bugle, is never so much as mentioned in "Amazing," though several issues of the newspaper do appear. More eerie is the off-screen presence of Norman Osborne. The audience glimpses his silhouette, though the face is indiscernible, and the main characters mention him a number of times. But the man makes no appearance in the film. Without saying anything, the film fairly heavily implies Osborne is in the running for a future installment, and it would not be surprising to see him in the next movie.
One can only hope (as I do) that if these two return, the actors from Raimi's trilogy are allowed to reprise their roles. Willem Dafoe as Norman, aka the Green Goblin, and J. K. Simmons as Jameson were the absolute best casting decisions ever made in the history of film, in my opinion. They owned those characters, so let's hope they're up for at least one more web-slinging adventure.
While some of the best parts of the older films are left out, there's more than enough new content in "The Amazing Spider-Man" to please the audience, bringing moviegoers a better Spider-Man than they've been treated to before. He's amazing, he's spectacular—he's your friendly neighborhood Spider-Man!