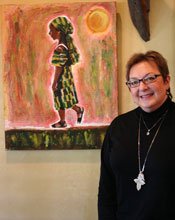 deborah Rae Wright, who doesn't capitalize her first name, has lived in an early 20th-century home on west Jackson's Grand Avenue for 11 years. The 59-year-old lives with her current companion, a well-behaved cairn terrier (think Toto) named Zach, whom she rescued a few years ago.
"Everything we do is important," says Wright. "Even where you choose to live."
Although not an artist herself, she describes herself as a designer and innovator. Her house is filled with an eclectic art. The grand hallway has a tree "growing" out of the wall. A haunting photographic re-enactment of the famous Jacques-Louis David painting "The Death of Marat" by Roy Adkins of Light and Glass Studio hangs in her living room. Another tree at the far end of the hallway protrudes from the floor. Its limbs, spread across the width of the hallway, are adorned with ornaments.
Wright's house is a gathering place for organizations, discussion groups and a book club. "What's mine is not mine," she says. "I'm just a steward of it. It belongs to God."
The lively Texan's raison d'etre is clear; even Zach sits up and pays attention when she speaks of her passion for racial reconciliation. Wright is deeply religious and fully committed, but open in her thinking.
"We don't grow up with the understanding of how the Scripture speaks against oppression," she says.
Wright grew up in a small town in Texas, northwest of Wichita Falls, in the late '60s and early '70s and was, she admits, somewhat of a hippie and a rebel. She attended nursing school in Austin, Texas, and spent much of her life as an ICU nurse before starting her own business auditing clinical trials for pharmaceutical companies.
She first visited Jackson in 1997 and started working with Voice of Calvary Ministries. In 2001, she made Jackson her home.
"I knew I wanted to live in the community of friends I had made," Wright says about her choice to move here.
Her life's work, racial reconciliation, began 25 years ago as the "fullness of understanding of Scripture" came to her and she saw the need. "It's not about me; it's about others. It is what I strive and yearn for."
The list of neighborhood groups, homeowner associations and community organizations to which she belongs and participates in includes WESToration, which is committed to restoring west Jackson; Jackson 2000, a group dedicated to improving race relations; and the West Jackson Alliance, which focuses on economic development.
"We're building a greater community for all communities involving greater cross-cultural understanding and appreciation."
More like this story
More stories by this author