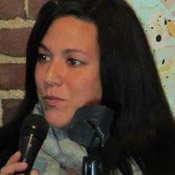 On Nov. 29, Sheila Bedi testified before the Attorney General's National Task Force on Children Exposed to Violence in Baltimore, Md.
"Imprisoning children does not stop the cycle of violence; it actually perpetuates it by exposing the children to violence, by removing them from their families, and by exposing them to a host of other abuses," Bedi said. She also spoke about the dangers of trying children as adults.
Bedi asked the task-force members to use some of her suggestions and recommendations in their final report. One suggestion was that states divest from large prisons and invest in community-based alternatives. Bedi also believes that families and communities should be incorporated in the rehabilitation process.
The Southern Poverty Law Center Deputy Legal Director graduated from Michigan State University with degrees in sociology and political science and went to American University in Washington, D.C., for her law degree. She received her L.L.M. from Georgetown University.
The Whitman-Walker Health legal services program in Washington, D.C., gave Bedi her first legal job. At the Clinic, she helped people with HIV/AIDS get appeals and apply for benefits. She actually started out as a journalist interested in civil rights. Later on, she became more involved with the criminal-justice system.
AT SPLC, Bedi focuses on representing imprisoned children in federal class-action litigation. She helped the SPLC's Mississippi Youth Justice Project reduce the number of imprisoned children in Mississippi. She also coordinates community-based advocacy campaigns.
"I feel very lucky to do what I do, but sometimes it can break your heart," Bedi said. Currently, Bedi is working on a lawsuit here in Mississippi over the Walnut Grove Youth Correctional Facility, which imprisons youth ages 13 to 22 who have been tried and convicted as adults.