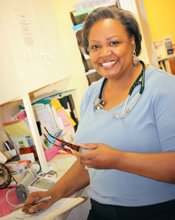 Dr. Andrea Lynn Phillips does a lot with a little at her practice, Phillips Medical Services. She and her staff of seven provide medical care to mostly uninsured patients at a discounted price at the Westland Plaza Clinic (909 Ellis Ave., 601-948-8501).
Several people have asked her why she chooses to work in west Jackson, an area that's declining. Phillips stuck with her location after she spent one unfulfilling year, in 1995, at a well-known practice in Flowood. "Serving the underserved ... I have a particular calling to serve those. They deserve as good of care as anyone. My mission is to provide quality care with dignity," Phillips says.
The Mendenhall native has lived in Jackson for 30 years. She received her bachelor's in chemistry in 1979 from Jackson State University and her medical degree in 1987 from the University of Mississippi Medical Center. After spending half her career working for other people, she opened Phillips Medical Services 11 years ago. "I decided it was time to do it the way I always envisioned it," she says.
Phillips decided to become a doctor after volunteering at a Mendenhall clinic while she was in high school in 1974. Some of the tasks she helped with were changing the dressings on diabetics with ulcers on their legs and feet and taking vital signs. The less-than-quality treatment that some of the poor patients received sparked a flame in her to help. "They had complications that could be taken care of if they had early medical care," she says.
Phillips credits her success and the success of her three siblings to her parents, who instilled the love of reading and service in their children. Her late father, Clarence, was a high school principal before becoming a guidance counselor, and her mother, Bernice, is a retired home-economics teacher of 35 years. In 2001, her parents received their golden diplomas, which are given at 50-year class reunions, from Jackson State. "That meant a lot. They were great examples," Phillips says. Her siblings are business owners and a teacher. Phillips tries to instill the love of reading in her two children, Alicia, who is in her mid-30s, and Justin, 20.
She is a member of Central Medical Society but recently removed her membership from the Mississippi State Medical Association because it took a stand against the Patient Protection and Affordable Care Act. "There are things in it I don't agree with ... but it's for the greater good. These people aren't lying around. They are working people," Phillips says of her patients.
Along with her practice, Phillips' focus is clinical research. She has worked in more than 60 trials as an investigator to ensure minorities are represented well. "Women, black people, elderly ... are underrepresented in drug development," she says.
More like this story
More stories by this author