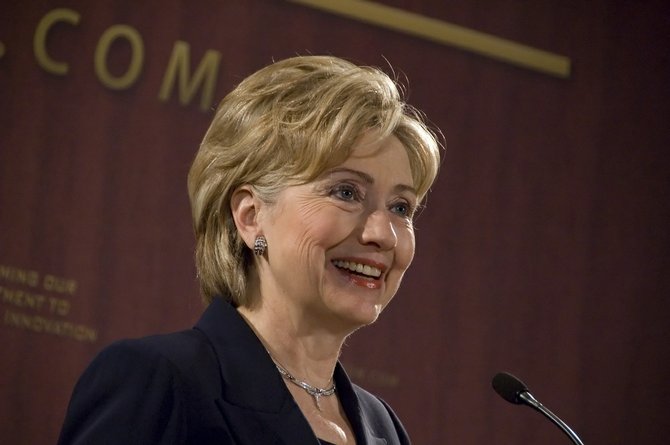 Secretary of State Hillary Rodham Clinton remains under observation at New York-Presbyterian Hospital following treatment for a blood clot caused by a concussion earlier this month. Doctors found the clot during a follow-up exam Sunday. Clinton's spokesman, Philippe Reines, would not reveal the location of the clot but said doctors are treating Clinton with anti-coagulants and that she will remain under observation at the hospital for at least 48 hours.
"Her doctors will continue to assess her condition, including other issues associated with her concussion," Reines said in a statement. "They will determine if any further action is required."
Clinton, 65, sustained her concussion after falling in her home in December. A stomach virus Clinton came down with on a diplomatic trip left her severely dehydrated, making the damage from her fall worse. Doctors diagnosed Clinton with a concussion Dec. 13. Clinton had to cancel a trip to North Africa and the Middle East planned for the next week due to her condition.
The seriousness of a blood clot "depends on where it is," said Dr. Gholam Motamedi, a neurologist at Georgetown University Medical Center who was not involved in Clinton's care. Clots in the legs, common risk after someone has been bedridden, are "no big deal" and are treated with six months of blood thinners to allow them to dissolve on their own and to prevent further clots from forming, Motamedi said. A clot in a lung or the brain is more serious; Lung clots, called pulmonary embolisms, can be deadly, and a clot in the brain can cause a stroke, Motamedi said.
Dr. Larry Goldstein, a neurologist and director of Duke University's stroke center, said blood can pool on the surface of the brain or in other areas of the brain after a concussion, but those would not be treated with blood thinners, as Reines described.
Clinton's concussion also forced her to cancel her Dec. 20 testimony before Congress regarding the Sept. 11 attack on the U.S. diplomatic mission in Benghazi, Libya, which killed Ambassador Chris Stevens and three other Americans. A report found that serious failures of leadership and management in two State Department bureaus were to blame for insufficient security at the facility. Clinton took responsibility for the incident before the report was released, but the report did not blame her for the incident. Some conservative commentators suggested Clinton was faking the seriousness of her illness and concussion to avoid testifying. State Department officials have denied the allegations.
Clinton, who planned to step down from her position in January, is the most traveled U.S. secretary of state in history, having visited 112 countries while on the job. She is also considered a front-runner for the Democratic presidential nomination in 2016, although she has not announced plans to run.
Dustin Cardon contributed to this story.
Copyright Associated Press. All rights reserved. This material may not be published, broadcast, rewritten, or redistributed.
More stories by this author
Like independent media outlets around the world, the Jackson Free Press works hard to produce important content on a limited budget. We'd love your help! Become a JFP VIP member today and/or donate to our journalism fund. Thanks for considering a JFP VIP membership or one-time support.