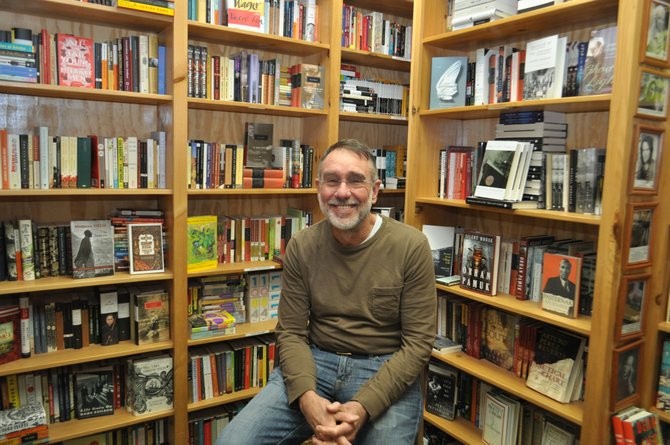 You've heard the testimony from that English professor who waxes eloquent about the mystical qualities of the book. How, from the spine of the binding and the veins of the vellum, life springs. In the ancient days, he'll tell you, all the world's knowledge was housed in the Library of Alexandria, before it burned. He'll hand you a tattered copy of "Fahrenheit 451" and send you on your way. He's a caricature of the nostalgic historian. But like all great humor, it's funny because it's true.
The real caretakers of the literary ecology are independent bookstores, and two of the country's most respected are in Mississippi: Lemuria Books in Jackson and Square Books in Oxford. While many bookstores struggle to hang on, these two are as relevant as ever.
The founders of Lemuria and Square Books, John Evans and Richard Howorth, respectively, are forever connected. Publisher Seymour Lawrence, who sent his authors to the two stores over the years, dubbed the journey the "I-55 tour." Evans and Howorth went to school together at the University of Mississippi in the late 1960s, and both attribute to the other the title of soul brother. They're the Castor and Pollux of Mississippi booksellers.
"Both of us organically developed the ideas for our stores from what was going on in our communities," Howorth says. "There was the clear presence of a single major literary figure--Welty in Jackson and Faulkner here--and the fact that there wasn't much of a bookstore (in either city)."
Lemuria opened in 1975, first in the Quarter on Lakeland and later in Highland Village, before it settled in its current location in Banner Hall in 1988). Square Books followed in 1979. In both stores, photographs of Mississippi authors stare back at you from the walls: Barry Hannah, Eudora Welty, John Grisham and dozens of others. They own the place.
"I remember Welty's first signing over here," Evans says of Welty's visit to Banner Hall. "I wanted her to sign books over here so that it would still be her store. Just one more time. What it does when a writer comes to a bookstore, it's made that book alive. It sounds hokey, but it's real."
Every space has ghosts and voices of its own, and the element of place is seldom more rich and relevant as it is 
in Mississippi.
"For me, a lot of it goes back to 1962 and the desegregation crisis and the riots at Ole Miss," Howorth says. "People knew that supporting the bookstore as a real place and as a cultural institution would say something positive about the community that counteracted the prevailing opinion. In a lot of ways, that crisis created an opportunity for people in Mississippi to learn how to do better in the world."
Few areas of business have a more treacherous path these days than the independent bookstore, but Evans and Howorth are committed to providing something the big stores can't. "I have to add value through selection, through inventory, through service, through conversation," Evans says. "And through caring. You know, it's not selling, it's sharing."
The most oft-cited threat to the world of books is digital publishing, but it might not be as bleak as we're made to believe. "What I'm sensing and seeing is that people are accessing digital information and reading on one hand but still buying books with the other," Howorth says.
"It's a positive thing in many ways because it's created an intense consideration about what exactly books really are and what they mean to us."
As so many independents have come and gone, Lemuria and Square Books have remained integral parts of the story in their communities. And the brotherhood of the owners has strengthened each other's successes.
"Having somebody else that cares makes a difference," Evans says of Howorth. "Because it's hard being the only soldier in the trench. We're very different, and our stores reflect that, but there's nobody else in the industry I have more 
respect for.
"Mississippi is looked down a lot by the intelligentsia," Evans adds. "But I've always found it to be to my benefit, because I didn't care about all that. It's all about the book, baby. It's all about the words, the writer, the book."
Visit Lemuria Books at 4465 Interstate 55 N., Suite 202 (601-366-7619, lemuriabooks.com) and Square Books at 
160 Courthouse Square (662-236-2262, squarebooks.com).