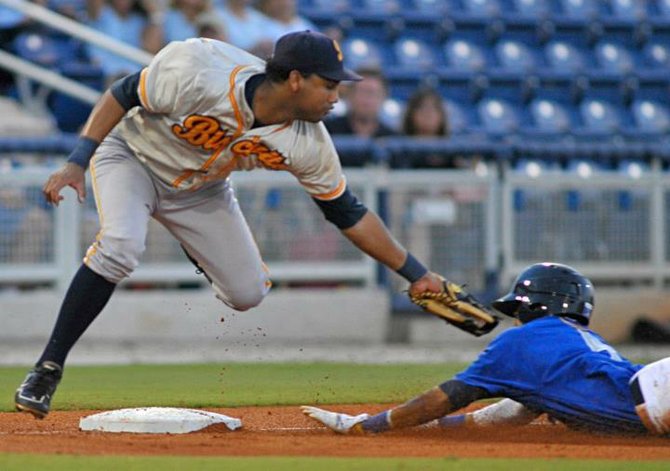 Billy Hamilton has been tearing up base paths all season long in minor-league baseball. The speedster has been nearly impossible to stop, swiping a base anytime he wants to.
Hamilton was a standout athlete at Taylorsville High School in Mississippi. He currently plays in the Cincinnati Reds minor-league system.
On Aug. 21, Hamilton broke the minor league baseball record for most stolen bases, stealing his 147th base against Montgomery. Hamilton stole second base in the third inning to get his 145th steal and then stole third base in the third inning to break the record. Hamilton stole another base in the ninth inning to bring his total to 147.
Vince Coleman set the old record in 1983, with 145 bases stolen over 113 games. Coleman set the record while playing for the Class A Macon Redbirds.
In the first half of the season, Hamilton stole 104 bases for Class A Bakersfield Blaze before being joining the Class AA Pensacola Blue Wahoos. The 21-year-old shortstop has only been caught stealing 33 times.
Ricky Henderson holds the major-league record for stolen bases. He set the mark in 1982 with 130 stolen bases.
So far this season, Hamilton has stolen more bases than any major-league team. The Florida Marlins lead major-league baseball with 121 steals, which is 26 behind Hamilton's total.
Mississippi gets a chance to welcome Hamilton back home this weekend and see what is growing into a minor-league phenomena. Starting Friday, the Mississippi Braves host the Blue Wahoos in a game series.
Hamilton will surely be in the majors at some point. It is worth the price of admission just to see a future big-leaguer who could shatter records when he gets called up to the show.
If you combined Hamilton's Class A and Class AA statistics, he is batting .317 with a .417 on-base percentage.
More like this story
More stories by this author